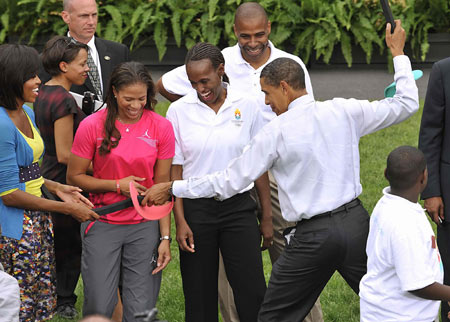 US President Barack Obama shows off his fencing skills during an event on Olympics, Paralympics and youth sport on the South Lawn of the White House. Obama on Wednesday delivered a strong, personal and highly visible endorsement to the 2016 Olympic bid of his hometown of Chicago, declaring: "We want these Games."  [Xinhua] 

US President Barack Obama staged an Olympic rally at the White House Wednesday, saying all the US is rooting for his hometown of Chicago in its efforts to host the 2016 Summer Games.
"Chicago is ready. The American people are ready. We want these games," he said to applause from the Olympians, Paralympians, local schoolchildren, politicians and other supporters in attendance.
"If you choose Chicago, I promise you this _ Chicago will make America proud, and America will make the world proud," Obama added.
The International Olympic Committee will choose a host city during an October 2 meeting in Copenhagen. Obama will not attend the meetings, instead sending first lady Michelle Obama to lead the US delegation.
Related readings:


 First lady to urge IOC to pick Chicago for 2016


 Chicago makes Olympic pitch


 Chicago bid impresses team


 Chicago 2016 shaping up as hottest prospect


 Chicago distances bid for 2016 Olympics from feud

Chicago is in a tough competition with Rio de Janeiro, Madrid and Tokyo.
In recent years, national leaders have traveled to the IOC meetings to help seal the deal _ such as Tony Blair for the 2012 Summer Olympics in London and Vladimir Putin for the 2014 Winter Games in Sochi, Russia.
"I would not make the case in Copenhagen personally," Obama said, noting he's busy seeking a health care overhaul. "But the good news is I'm sending a more compelling superstar to represent the city and country we love, and that is our first lady, Michelle Obama."
She didn't return the kudos, describing the president's dabbling in some of the Olympic sports before the event.
"You should have seen the president in there fencing," she said to laughter, as Obama stuck out his arm in a mock fencing move. "It was pathetic. But he passed the baton really well."