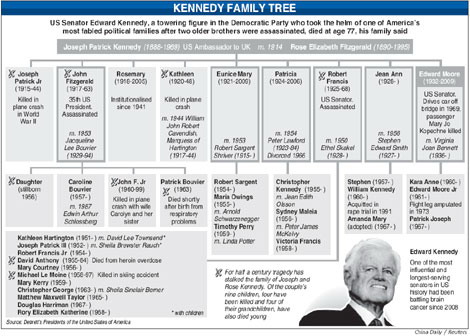 BOSTON: World leaders Wednesday lionized US Senator Edward Kennedy as a towering figure in American politics, praising his dedication to causes ranging from health care reform to peace in Northern Ireland.
The last surviving brother in a political dynasty, and one of the most influential senators in US history died Tuesday night at his home on Cape Cod after a year long struggle with brain cancer. He was 77.
In nearly 50 years in the Senate, Kennedy served alongside 10 presidents -- his brother John Fitzgerald Kennedy among them -- compiling an impressive list of legislative achievements on health care, civil rights, immigration and more.
President Barack Obama said Wednesday that he was "heartbroken" to hear of the death of Kennedy, a crucial supporter of his presidential candidacy.
"An important chapter in our history has come to an end. Our country has lost a great leader, who picked up the torch of his fallen brothers and became the greatest United States senator of our time," Obama said.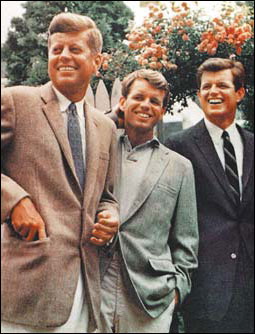 Kennedy, the younger brother of former President John F. Kennedy (on left) and Senator Robert F. Kennedy (on, center), died late Tuesday. Kennedy was 77 and had been battling brain cancer. [Agencies] 
"For five decades, virtually every major piece of legislation to advance the civil rights, health and economic well-being of the American people bore his name and resulted from his efforts," Obama said.
British Prime Minister Gordon Brown Wednesday said the US politician was the "Senator of Senators".
Kennedy was awarded an honorary knighthood by the Queen earlier this year for his services to the US-British relationship and to Northern Ireland.
Kennedy led the world in championing children's education and healthcare, and believed that every single child should have the chance to realize their potential to the full, Brown said. Even facing illness and death, he never stopped fighting for the causes which were his life's work.
Lord Owen, who served as British foreign secretary in the 1970s, said Kennedy was "the most influential senator" in the United States.
He said Kennedy had put his weight behind peace in Northern Ireland even at the risk of alienating powerful Irish-American allies, whose sympathies lay with the province's Catholic Irish nationalists rather than the British Protestant majority.
Initially a strong supporter of the Irish nationalist cause, Kennedy was a key American promoter of the peace process, urging Britain to negotiate with the IRA-linked party Sinn Fein, and also reaching out to Protestant Unionists.
Related readings:


 Kennedy's death another chapter in healthcare saga


 Senator Edward Kennedy dies aged 77


 Eunice Kennedy Shriver: tireless activist for the mentally disabled


 Kennedy plan to outline U.S. healthcare overhaul
"His influence on the peace process, and his influence on successive American presidents was I think absolutely crucial," Owen said.
To the American public, Kennedy was best known as the last surviving son of America's most glamorous political family, father figure and, memorably, eulogist of an Irish-American clan plagued again and again by tragedy. But his career was forever marred by an accident at Chappaquiddick in 1969, when a car he was driving plunged off a bridge, killing a young woman.
Known as "Teddy," Kennedy was the brother of President John Kennedy, assassinated in 1963, Senator Robert Kennedy, fatally shot while campaigning for the 1968 Democratic presidential nomination, and Joe Kennedy, a pilot killed in World War II.
When he first took the Senate seat previously held by John Kennedy in 1962, he was seen as something of a political lightweight who owed his ascent to his famous name.
Yet during his nearly half century in the chamber, Kennedy became known as one of Washington's most effective senators, crafting legislation by working with lawmakers and presidents of both parties, and finding unlikely allies.
At the same time, he held fast to liberal causes deemed anachronistic by the centrist "New Democrats", and was a lightning rod for conservative ire.
He helped enact measures to protect civil and labor rights, expand healthcare, upgrade schools, increase student aid and contain the spread of nuclear weapons.
The Democrat's affability and capability to span the partisan divide on an array of legislative matters prompted an outpouring of condolences from those in the Republican Party as well as the Democrats.
The widow of another president, Ronald Reagan, was one of the first to speak out from the Republican Party.
"Given our political differences, people are sometimes surprised by how close Ronnie and I have been to the Kennedy family," Nancy Reagan said in a statement from Los Angeles.
"But Ronnie and Ted could always find common ground, and they had great respect for one another. In recent years, Ted and I found our common ground in stem cell research, and I considered him an ally and a dear friend. I will miss him."
There was no immediate word on funeral arrangements.
Reuters-AP