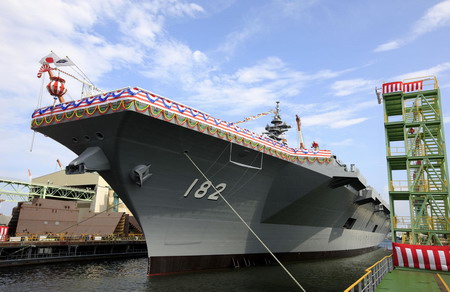 The launching ceremony of a new helicopter-carrying destroyer "Ise" is held at Ishikawajima-Harima Heavy Industries (IHI) Yokohama Shipyard in Yokohama, Japan August 21, 2009. [Xinhua]
YOKOHAMA: Japan's second "Hyuga Class" helicopter-carrying destroyer was launched Friday at IHI Marine United Inc's shipyard in Yokohama.
Related readings:


 Bangladeshi destroyer arrives for 1st China visit

 Chinese destroyer escorts Dutch ship in Somali


 Japanese destroyer arrives in Zhanjiang


 Japan destroyer arrives in South China


 Japan's MSDF destroyer sets off for visit to China
At a ceremony held at the shipyard, Parliamentary Secretary for Defense Nobuo Kishi, on behalf of Defense Minister Yasukazu Hamada, gave the official name of "Ise" to the nation's largest destroyer.
The 197-meter long, 13,950-ton Ise can carry up to 11 helicopters aboard by using the deck and the hanger deck beneath it.
The vessel is scheduled to be commissioned into the Maritime Self-Defense Force (MSDF) in March 2011.
On March 18, the MSDF commissioned its first "Hyuga Class" helicopter-carrying destroyer "Hyuga," which raised concerns in the region.