Over 50 killed in heavy fighting in S. Philippines
MANILA: More than 50 combatants were killed as government troops clashed fiercely with Islamic militants near their jungle camps in the restive southern Philippines, officials said on Thursday.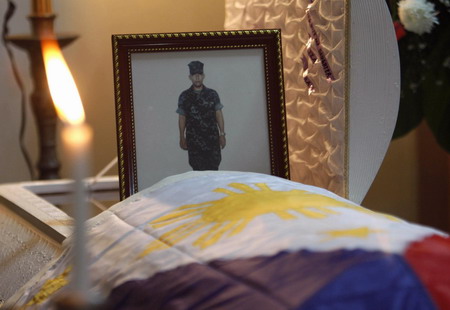 A picture of the soldier who was killed with 23 others while battling the Abu Sayyaf group in Basilan province, is displayed on his coffin during his wake in Zamboanga City, southern Philippines August 13, 2009. [Agencies]

The government troops suffered their worst casualties in years as 23 elite marines, army officers were killed while 22 others were injured. Maj. Gen. Benjamin Dolorfino, the regional military chief, said that on the other side 20 bodies of guerrillas were recovered but more are believed to have been slain.
Hundreds of troops stormed two jungle camps of the Al Qaida-linked Abu Sayyaf militant group on its stronghold Basilan island in a pre-dawn assult on Wednesday. Sporadic fights continued until late night as fleeing militants fought back at the pursuing troops and sympathizing rebels of another Islamic armed group joined the battle.
Engaging militants were numbered around 200 and one third were under Abu Sayyaf sub-leaders Furuji Indama and Khair Mundus, military officials said.
Related readings:


 US crucial to Philippine development: Arroyo


 1 killed, 7 hurt in Philippine blasts


 Philippines reports first death from H1N1 flu


 Grenades hit festival crowd in Philippines, 1 killed, 32 wounded


 Filipino troops, rebels unite to free tourist
Troops destroyed rebel camps run by Mundus to train young bombers in the remote village of Silangkum. Large amount of bomb-making materials were seized, Dolorfino said.
He said two militant leaders, Asid Sali and Muton Indama, were killed in the clash but the military has yet to identify the others. Mundus, a hard-core Filipino militant with extensive links with foreign funders, might be among the slain. The rebel leader escaped from a local prison in 2007 and was wanted by Washington for $500,000.
But the government troops have also suffered one of its worst single-day casualties in combat. Rows of flag-draped coffins filled a public funeral parlor in the regional military headquarters in Zamboanga city on Thursday. Relatives broke out in tears and they consoled each other.
Army spokesman Lt. Col. Arnulfo Marcelo Burgos said the Army condoles with the families and loved ones of the 23 soldiers who died in line of duty for the country.
"With this large number of casualties, the Army is even more determined to put a stop to the senseless violence the local terrorist groups and bandits have been continuously undertaking," he added.
Abu Sayyaf militants captured and killed 15 Marines in a clash in July 2007. Ten of the soldiers were brutally beheaded.
The 340-member Abu Sayyaf is blamed for a series of terror attacks and kidnappings in the Philippines. Since 2002, a few hundreds of non-combatant troops from the US have been deployed in Basilan to assist Filipino counterparts in training and gathering intelligence reports.