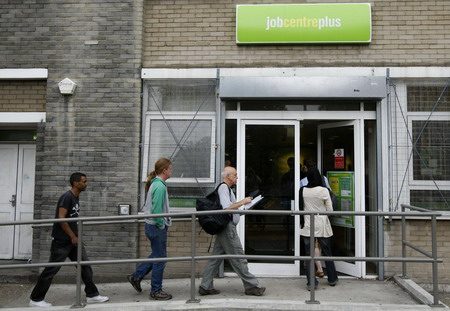 People enter a job centre in London August 12, 2009. [Agencies] 
LONDON: British unemployment hit its highest rate since 1996 in the three months to June, official figures showed on Wednesday, while the number of people claiming jobless benefit rose broadly as expected in July.
The Office for National Statistics said the ILO jobless rate rose to 7.8 percent in April-June, above forecasts for a rise to 7.7 percent and the highest since Oct-Dec 1996.
The number of people without a job on this measure rose to to 2.435 million, its highest since 1995.
There was little market reaction to the data as investors focused on the Bank of England's quarterly inflation and growth forecasts, due at 0930 GMT.
Related readings:

 Japan jobless rate hits 6-year high


 US jobless rate hits 9.4% in May while layoffs slow


 Jobless graduate sues her college


 UK military worried some soldiers too fat


 Tough task to find work for jobless
Despite recent signs Britain may be starting to emerge from recession, unemployment is expected to keep rising for some months to come.
Many analysts reckon the jobless total will hit three million, bad timing for Prime Minister Gordon Brown's Labour government which faces an election next year.
"There doesn't seem to be much sign that the rate of increase (in unemployment) is slowing down," said Stephen Lewis, chief economist at Monument Securities.
Business Secretary Peter Mandelson, speaking before the figures were released, said Britain's stimulus measures had saved at least 500,000 jobs during the recession.
"The Treasury estimates that there would have been at least, probably far in excess of, 500,000 more jobs lost in the recession had it not been for the government's and the Bank of England's intervention," he told BBC radio.
The ONS said the number of people claiming unemployment benefit rose by 24,900 in July, broadly in line with forecasts for a rise of 25,000 and after a downwardly revised increase of 21,500 in June.
That took the jobless rate on this measure up to 4.9 percent, the highest since October 1997.
The claimant count and broader ILO measures of unemployment have shown wide disparity in recent months and analysts say the former may not capture the full scale of recent lay-offs.
The government has launched an investigation into this discrepancy.
One possible cause could be that some people who have recently lost their jobs are relying on their partner's income, their own savings or redundancy payments.
Wednesday's figures showed employment fell by 271,000 in April-June, matching the decline in Feb-April, which was the biggest since records began in 1971.
The Bank of England's quarterly inflation report follows its shock decision last week to throw up to a further 50 billion pounds at the economy via its quantitative easing programme.
While recent data has pointed to tentative recovery, given its decision last week, the BoE forecasts are likely to show a deeper recession than they had factored in before, analysts say.
"The ILO figures suggest that the deterioration in the labour market is yet to show signs of stabilisation," said James Knightley at ING Financial Markets. "This in turn implies downside risk to consumption and offers further justification for the BoE's decision to expand its QE efforts last week."