TOKYO: A strong earthquake measuring 6.5 on the Richter scale rocked eastern Japan early Tuesday, injuring more than 110 people.  
The focus of the quake, which occurred at 5:07 am (2007 GMT Monday), was located some 23 km under the sea in Suruga Bay, southwest of Tokyo, said the Japan Meteorological Agency, which estimated a preliminary magnitude of 6.6 for the quake and the depth of the focus at 20 km under the sea surface.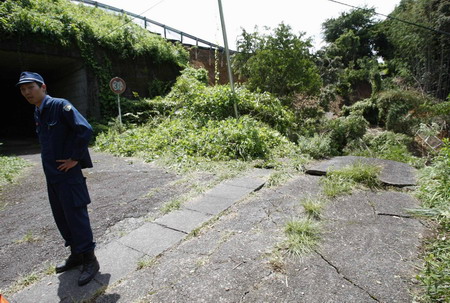 A police officer stands guard near the site where a section of the Tomei Expressway collapsed during an earthquake near Makinohara service area in Makinohara, Shizuoka prefecture in central Japan August 11, 2009. [Agencies]

The Agency said the 5:07 am quake was not the so-called Tokai quake, a massive quake long feared to hit the Tokai region of central Japan, and said neither is it a prelude to it.
Tsunami alerts, which were issued shortly after the quake, have been called off.
Police and local authorities said that more than 110 people were injured in the quake-hit areas though there have been no reports of deaths or missing people.
Related readings:


 Strong quake jolts E Japan, 60 injured


 Strong earthquake shakes Tokyo area


 Quake hits off New Zealand, no damage


 Strong quake hits Mexico's Gulf of California


 Storms cripple Tibet highway, 2 dead in Sichuan
Most of the injured were in Shizuoka Prefecture, but injuries were also reported in Aichi and Kanagawa prefectures and in Tokyo.
A task force was set up at the prime minister's office, and Prime Minister Taro Aso ordered task force members to collect information on the quake.
In Omaezaki, Shizuoka Prefecture, two nuclear reactors at the Hamaoka nuclear plant were suspended. And Central Japan Railway Co. suspended operations of Shinkansen bullet trains for two hours and local trains in Shizuoka and part of Nagano Prefecture. The Tomei Expressway were partly closed.
The surface of the road was lifted up at the Kikugawa interchange on the expressway in Shizuoka Prefecture, local media reported, citing the police. And there were also reports of landslides in the Prefecture.
In the cities of Shizuoka, Kakegawa and Shimada in Shizuoka Prefecture, the power supply was cut off for 9,500 households.