VARANASI, India: Two people were killed and several others injured in a stampede which took place shortly after the solar eclipse here Wednesday morning, said police.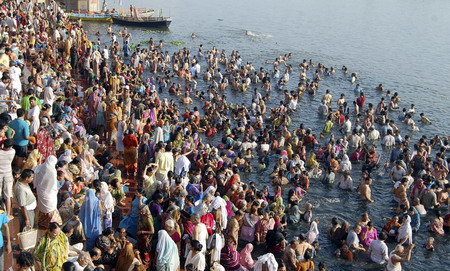 Hindu devotees take a holy dip in the waters of river Yamuna after a solar eclipse in the northern Indian city of Mathura July 22, 2009. [Agencies]
Some 200,000 people gathered by the side of the Ganges River here to see the fantastic view of a total solar eclipse lasting more than three minutes, the longest in the century.
Full Coverage:


Total Solar Eclipse
Related readings:


 Total solar eclipse shrouds Asia in darkness

 Maximum darkness of solar eclipse in Kathmandu occurs


 Natural phenomenon eclipse, adopt by tough rituals in Nepal


 Total solar eclipse observed in Bangladesh


 Longest 21st century solar eclipse envelops Asia in darkness
The sky was almost clear when the sun rose in the early morning before the darkness took place about 06:30 a.m., to the excited shouting of thousands along the river.
But chaos took place afterwards as people began evacuating from the narrow streets leading to the river.
It is not clear how the stampede took place but some Hindu pilgrims wearing orange covers only and walking with bear feat apparently pushed some elderly women, leading to chaos among the crowds, said police.
Eclipse also took place in other major Indian cities including Surat, Bhopal and Patna.