The space shuttle Endeavour is seen from this camera view from aboard the International Space Station as it approaches the orbital outpost for docking in this image from NASA TV July 17, 2009. [Agencies]


WASHINGTON: After a nearly two-day pursuit, the US space shuttle Endeavour docked with the International Space Station on Friday, delivering the final pieces of the Japanese Kibo complex and a new flight engineer to join the Expedition 20 crew.
According to NASA TV, Endeavour Commander Mark Polansky guided the shuttle to a docking at 1:47 pm EDT (1747 GMT) as the two aircraft flew 220 miles about the northern coast of Australia.
Related readings:


 On sixth try, space shuttle lifts off


 Thunderstorms delay space shuttle launch again


 NASA set for third shuttle launch try Saturday


 NASA postpones launch of space shuttle
Before closing the final 600 feet to the station, Polansky commanded Endeavour through a "backflip" allowing the station's Expedition 20 Commander Gennady Padalka and Flight Engineer Michael Barratt to take photos that imagery experts will review to assess the health of Endeavour's heat shield.
The shuttle and station crews opened hatches and greeted one another at 3:48 pm EDT (1848 GMT), beginning more than a week of joint operations between the two crews.
Endeavour lifts off on Wednesday evening from Kennedy Space Center in Florida after five delays, on a track to the International Space Station (ISS).
Endeavour's 16-day mission will feature five spacewalks and complete construction of the Japan Aerospace Exploration Agency's Kibo laboratory. Astronauts will attach a platform to the outside of the Japanese module that will allow experiments to be exposed to space during the first spacewalks.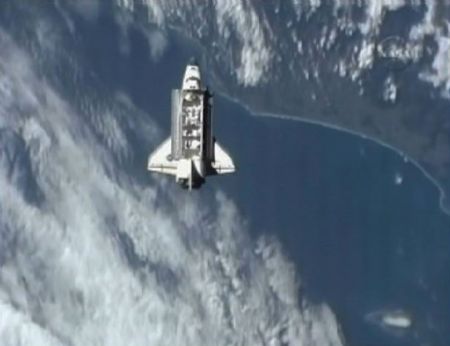 The space shuttle Endeavour is seen from this camera view from aboard the International Space Station as it approaches the orbital outpost for docking in this image from NASA TV July 17, 2009. [Agencies]