KABUL: A helicopter of NATO-led International Security Assistance Force (ISAF) crashed in Sangin district of the troubled Helmand province in south Afghanistan on Tuesday, said Fazal Haq, the district chief of Sangin.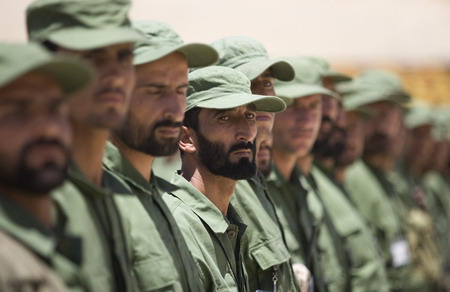 Afghan National policemen line up during a graduation ceremony in Maidan Shahr, capital of mountains of Wardak Province, July 13, 2009.  [Agencies]
"The helicopter was supplying two packages apparently food staff to ISAF base in Sangin district when it crashed some 2 km west of the district headquarters this morning," Haq told Xinhua.
Related readings:


 2 US Marines die in S. Afghanistan bomb blasts


 Explosions kill dozens in Afghanistan, Iraq

 Blast in central Afghanistan kills 25


 7 US troops killed throughout Afghanistan


 Major US military operation under way in Afghanistan
He did not say if there were any casualties. But he ruled out the involvement of any hostile fire in the incident, saying there were no insurgents in the area.
British forces have base in the militancy-plagued Sangin district.
Meantime, Taliban purported spokesman Qari Yusuf Ahmadi claimed responsibility. In talks with media via telephone from unknown location, he said the militants shot down a Chinook helicopter of foreign forces in Sangin district.
If true, it is the first time since the launch of a massive operation against Taliban militants in parts of Helmand province on July 2 to ensure security ahead of president election.
Afghanistan's second presidential poll is going to be held amid tight security on August 20.