L'AQUILA, Italy: Chinese State Councilor Dai Bingguo on Thursday offered a three-point proposal on the global fight against climate change.
In a speech at the leaders' meeting of a forum of major economies on energy security and climate change, Dai said that firstly, the right principle should be upheld in tackling climate change.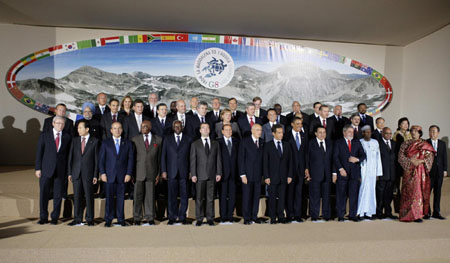 World leaders stand for a family photo before a dinner at the G8 summit in L'Aquila, Italy, July 9, 2009. Leaders of the Group of Eight major industrial nations and the main developing economies are meeting in the central Italian city of L'Aquila until Friday to discuss issues ranging from global economic stimulus to climate change and oil prices. [Agencies]
Dai, attending the meeting on behalf of Chinese President Hu Jintao, said the cooperation among countries is indispensable for the fight against climate change.
He called for unswerving implementation of the principle of "common but differentiated responsibility" established by the UN Framework Convention on Climate Change (UNFCCC), since it is the guideline of international cooperation to cope with the challenge.
 Related full coverage:

 G8+5 meetings
Related readings:


 World leaders open hard talks on climate change


 G8 calls for increased food security


 G8 sees continued perils for world economy


 Junior 8 meets world leaders in L'Aquila


 World leaders open hard talks on climate change
The state councilor said that developed countries should take the lead in reducing emissions to honor their commitments under the Kyoto Protocol for the first commitment period.
The developed countries should also set a medium-term emission reduction target after 2012, when the first commitment period expires, Dai said.
He added that the developing countries, within the framework of sustainable development, should also take active measures to make due contributions to emissions cut.
Secondly, the spreading of technologies should be reinforced, said the state councilor. He called for the building of environment-friendly and energy-saving societies, technology promotion, energy optimization and strengthening environmental protection.
He expressed the hope that all parties concerned, especially the developed countries, will support a proposal by the Group of 77 and China in Bali in 2007, which called on the developed countries to take concrete actions to help the developing countries fight climate change by providing them with funds and technology.