L'AQUILA, Italy: Leaders from the Group of Eight (G8) rich countries are expected to agree on a target of limiting global warming to within two degrees Celsius above pre-industrial levels, according to a draft declaration for the summit on Wednesday.
"We recognize the broad scientific view that the increase in global average temperature above pre-industrial levels ought not to exceed 2 degrees," the draft said.
The G8 leaders, coming from the United States, Britain, France, Germany, Italy, Japan, Russia and Canada, kicked off the summit in the central Italian town of L'Aquila Wednesday, with the first day largely focusing on the economic crisis and global fight against climate change.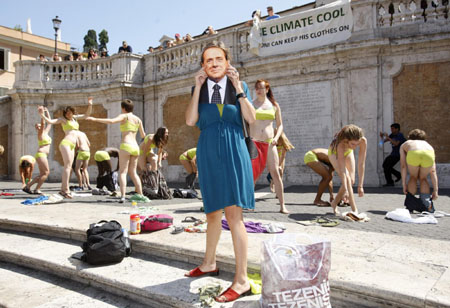 An activist from global campaign group Avaaz wears a mask of Italian PM Silvio Berlusconi as the others strip for a cooler climate in downtown Rome July 8, 2009. G8 leaders have failed to get emerging powers to agree climate change goals for 2050 and conclusions from their summit will not directly refer to a sensitive debate about the domination of the dollar. [Agencies]
Scientists had warned that there would be serious climate consequences if the world temperature rises more than the threshold of two degrees Celsius.
The United States has been reluctant to accept the 2-degree limit, a goal strongly supported by the European Union (EU).
But it was reported that the G8 leaders failed to bridge their differences on the goal of halving global greenhouse gas emissions by 2050.
Related readings:


 World leaders' expressions at G8 summit


 G8 summit in new push for global financial reform


 China and G8


 G8 summit in Italy


 Economic crisis to dominate opening of G8 summit
European Commission President Jose Manuel Barroso said on Wednesday in a pre-summit press conference that developed countries should cut their greenhouse gas emissions by 80 percent by 2050, so as to help achieve the global goal.
Swedish Prime Minister Fredrik Reinfeldt, whose country holds the EU rotating presidency, added that 1990 should be the base year for setting targets for the reduction of emissions.
At their last year summit, the G8 leaders agreed to halve emissions by 2050 but failed to specify the base year. While the EU insists the reduction should be compared to 1990 level, but the United States wants a later year.