TEGUCIGALPA: Honduras' Manuel Zelaya, deposed as president a week ago, on Sunday has had to redirect his aircraft to El Salvador, because air authorities will not allow him to land in the nation, according to Honduras' Aviation Agency.
Earlier on Sunday, the agency ordered the plane carrying Zelaya, who is attempting to return to Honduras, to land in El Salvador instead, according to reports reaching here.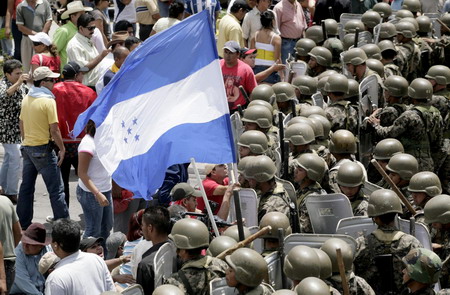 Soldiers stand guard as supporters of ousted Honduras President Manuel Zelaya protest outside the entrance to the international airport in Tegucigalpa July 5, 2009. [Agencies]
Zelaya set out from US capital Washington earlier on Sunday, intending to recover his legal status. He was in a small jet aircraft followed by a separate aircraft carrying delegation from the Organization of American States and the presidents of Argentina, Cristina Fernandez, and of Paraguay, Fernando Lugo.
Supporters were waiting for him at Toncontin Airport, in Honduras' capital, which was surrounded by soldiers and police. Honduras' post coup-government has sealed the streets around the airport.
The interim government had barred all domestic airports from allowing Zelaya's plane to land and American Airlines, Taca and Delta had halted flights to the nation. Copa and Continental continue to fly, however.
Related readings:


 OAS expels Honduras' membership over coup


 Ousted president says to return to Honduras Sunday


 Interim gov't: Honduras to quit OAS


 60 injured, 1 dead after Honduras soldiers, protesters clash
Some Hondurans began panic buying of food and fuel as tension mounted in Tegucigalpa.
Zelaya was seized from his bed in the presidential palace in the early hours last Sunday, by hundreds of hooded and heavily armed troops who forced him to board a plane to Costa Rica.
Roberto Micheletti, who had been the leader of the legislature, took power just hours after a legislative session that began with the reading of a letter, which Zelaya has denounced as fake, which alleged that Zelaya had resigned on health grounds. Micheletti says that scheduled general elections will go ahead as normal on Nov. 29.