MOSCOW: Russia closed down its casinos overnight as gambling was banned nationwide, a move the industry says could throw a third of a million people out of work.
The July 1 ban shut gaming halls, from gaudy casinos crowned by extravagant neon structures to dingy dwellings containing a handful of slot machines.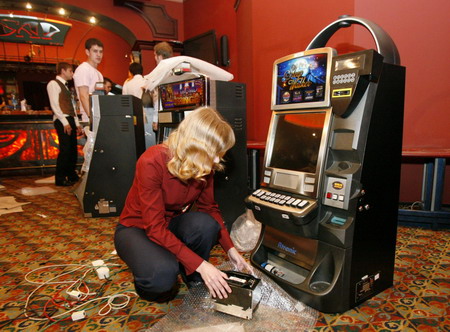 An employee dismantles a gaming machine at a gambling hall in Moscow, in early hours of July 1, 2009. [Agencies]
"I feel terrible. We just let 1,000 people go," said Yuri Boyev, general director at Metelitsa, an up-market casino where billionaires rolled the dice and Russia's gas giant Gazprom held a lavish Christmas party.
Related readings:


 Myanmar closes all border casinos


 Macao Chief says no new casinos for near future


 Impact of govt curbs on Macao casinos


 HK trio convicted of cheating 6 casinos


 Atlantic City casinos ordered to close
Vladimir Putin, now prime minister, came up with the idea in 2006 when he was president after the Interior Ministry linked several gaming operations in Moscow to organised crime.
The Kremlin plans to restrict gambling to Las Vegas-style gaming zones in four rarely visited regions deemed to need investment, including one near the border with the Democratic People's Republic of Korea (DPRK), but nothing has been built and critics say the zones will fail.
Though gaming establishments knew the shutdown date for at least a year, few thought the government would go through with it, but officials moved in overnight to close them down.
The industry says the ban will axe at least 300,000 jobs, while officials in Moscow put the national figure at 11,500.
Rows of slot machines, usually blinking around the clock in smoky, crowded halls, lay dormant and wrapped in cellophane.
Moscow deputy mayor Sergei Baidakov, watching men dismantle poker tables and lay roulette wheels on the floor, said the state was ready to thwart any big to move gambling underground.
"We are confident we will control the situation," he added that the ban was to protect the health of society.
City police stood on guard in case of protests by disgruntled former workers in the popular gaming halls that have sprouted since the Soviet Union collapsed in 1991 and now pepper Russia's cities.
A hotline was set up on Wednesday to report on those suspected of operating illegal gambling, Itar-Tass reported.