SEATTLE: Microsoft Corp. said Thursday that prices for the Windows 7 computer operating system are largely in line with those for Vista, and that consumers who buy PCs before the new system goes on sale in October will get free upgrades.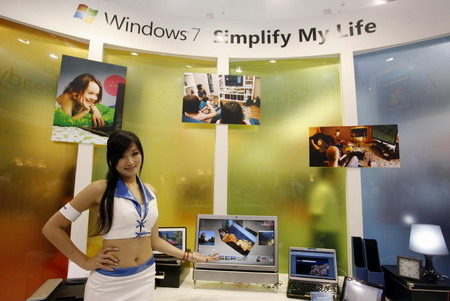 A model poses with a Microsoft Multi-Touch-enabled computer installed with Windows 7 during the 2009 Computex exhibition in Taipei in this June 2, 2009 file photo. [Agencies]

To drum up demand among people who aren't in the market for a new PC, Microsoft also said it is taking limited pre-orders for Windows 7, selling some for as little as $50.
Windows 7 is Microsoft's first new operating system in almost three years. With Vista, Microsoft made under-the-hood technical changes that left other software companies and device makers scrambling to make their products work with new computers. Many didn't work at Vista's January 2007 launch; people also complained the new system was sluggish.
Microsoft is promising a smoother launch for Windows 7, in part because it's not a radical departure from Vista.
People who have tested near-final versions say Windows 7 boots and runs faster and spends less time nagging the user with alerts and pop-up windows than Vista does. It also tries to make it easier for people to navigate to frequently used Web sites, documents and tasks.
For customers buying new machines, the cost of the Windows software is typically included in the purchase price. The prices announced Thursday are for people who buy Windows separately or upgrade from older versions.
Related readings:


 More than renewable energy needed, says Microsoft's Mundie


 Microsoft unveils energy-saving online application


 No IE browser in Windows in Europe: Microsoft


 Microsoft, Sony take aim at Nintendo Wii at E3


 Microsoft unveils motion control for Xbox 360
Consumers who buy Windows Vista Home Premium, Business or Ultimate computers starting Friday can contact the PC manufacturer for a free upgrade when Windows 7 becomes available on Oct. 22. Windows Vista Home Basic is not eligible for upgrade. The offer will run through January 2010.
The Redmond, Wash.-based software maker said it will cost people $120 to upgrade their existing machines to the Windows 7 Home Premium version, $10 less than the comparable Windows Vista upgrade software. Upgrades to the Professional and Ultimate versions will cost $200 and $220 respectively, the same as Vista.
Versions meant to be installed from scratch on a computer will cost $200, $300 and $320 for Home Premium, Professional and Ultimate.
By comparison, Apple Inc. said in early June that upgrades to its newest operating system, called Mac OS X Snow Leopard, will cost $30.
The cost is identical regardless of whether the upgraded machine was running Windows XP or Windows Vista.