RAMALLAH: Palestinian Prime Minister Salam Fayyad on Monday challenged the hawkish Israeli prime minister by saying that East Jerusalem will be the eternal capital of the future Palestinian statehood, expecting it to be established in two years.
Fayyad made the remarks in a public speech in al-Quds University in Abu Dis near the West Bank, in response to Benjamin Netanyahu's speech on his diplomatic policy addressed from Bar Ilan University in Tel Aviv on June 14.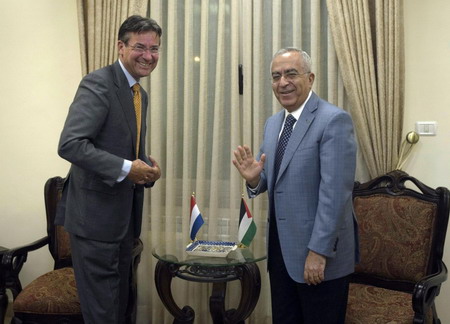 Palestinian Prime Minister Salam Fayyad (R) meets Netherlands' Foreign Minister Maxime Verhagen in the West Bank city of Ramallah June 23, 2009. [Agencies]
Netanyahu stressed that Jerusalem will be the capital of the Jewish state, noting the Palestinian statehood must be demilitarized and will not be created unless the Palestinians recognize Israel as a Jewish state. He also refused the return of the Palestinian refugees to the territories of Israel.
Related readings:


 FM urges Israel, Palestine to peace talks


 Palestine seeks strong Security Council message for Israel


 Expectations low for Palestine statehood


 Israel begins 5-day all-nation civil defense drill


 Report: Israel plans to cement hold on Jerusalem
"I call for unity (of Palestinians) to establish the statehood in two years at most," Fayyad said, adding "east Jerusalem will only be the eternal capital for our independent statehood. Netanyahu's speech was vague and was less committed to the two-state solution."
Fayyad urged the international community to force Israel to accept the two-state solution clearly, in his speech aired by the state-run Palestinian satellite channel.
He noted that "the Palestinian people have made painful concessions when they accepted their statehood to be built on 22 percent of Palestine's historical land."
He stressed that Israel must stop Jewish settlement in the West Bank, lift the blockade on the Gaza Strip and stop raids in the Palestinian territories, "as a prelude to peace."
Netanyahu said his government will halt building new settlements, but will consider the natural growth.
"This is the Palestinian National Authority's (PNA) stance and the peace process will lack credibility if these conditions are not met," Fayyad went on.
Fayyad delivered an open message to Israelis, saying "we heard the story of your prime minister one week ago, which was based on his ancient understanding of the conflict, but we also have our own ancient story of conflict which is completely different from yours."
"If you don't accept our story, I don't expect that your story will be accepted as a basis for a future solution," Fayyad told the Israelis.
On the internal issue, especially the feud between Palestinian President Mahmoud Abbas' Fatah party and the Islamic Hamas movement since June 2007, Fayyad called for an end to the rift and holding presidential and parliamentary elections no later than January 25, 2010.
But, the Islamic Hamas movement that rules the Gaza Strip slammed Fayyad's speech, saying it did not include anything new.
Fawzi Barhoum, Hamas spokesman in Gaza, said in a statement that "Fayyad wanted to show himself a successor to late leader Yasser Arafat," adding "basically Fayyad is an illegal premier and he doesn't have the right to speak on behalf of the Palestinians."