Full Coverage:

SCO & BRIC Summits
Related readings:


China for new monetary system


China wants US to care for dlr


Medvedev calls for new reserve currency


China offers $10 billion loan to SCO


China supports Russia's WTO bid


Russia may buy other BRIC nation's bonds: Advisor
YEKATERINBURG, Russia -- Brazil, Russia, India and China on Tuesday called for a more diversified international monetary system, but wrapped up their first full-fledged summit by avoiding any explicit criticism of the world's dominant currency, the US dollar.
The statement issued by the leaders from the BRIC nations contained no reference to developing new reserve currencies to complement the dollar, which Russia had called for at a separate event earlier in the day.
"There is a strong need for a stable, predictable and more diversified international monetary system," the final statement said.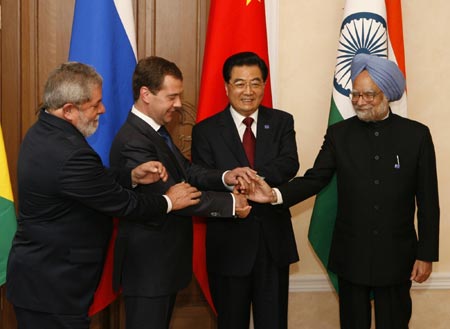 (L-R) Brazil's President Luiz Inacio Lula da Silva, Russian President Dmitry Medvedev, Chinese President Hu Jintao and Indian Prime Minister Manmohan Singh pose for a photo in Yekaterinburg, June 16, 2009. Leaders of Brazil, Russia, India and China, known as BRIC, gather for the first summit of the world's biggest emerging economies in Yekaterinburg. [Agencies] 

A reformed financial and economic architecture should be based on "democratic and transparent decision-making and implementation process at the international financial organizations," it said.
The BRIC nations urged the international community to keep the multilateral trading system stable, curb trade protectionism and they stressed a commitment to "advance the reform of international financial institutions to reflect changes in the world economy."
The group repeated long-standing calls that emerging economies like Brazil, Russia, India and China be given greater representation at major institutions like the International Monetary Fund or the World Bank.
The document called for broader cooperation in the energy sphere, diversifying energy resources and energy transit routes.
It also underlined support for a "more democratic and just multipolar world order based on the rule of international law, equality, mutual respect, cooperation, coordinated action and collective decision making of all states."
The wording reflected a longtime call by China and Russia, shared by other developing nations, for a bigger say in global affairs to counter the US domination in global affairs.
Brazil will host the next summit of the BRIC meeting in 2010.