SEOUL -- The South Korean government on Saturday expressed regret over a statement by the Democratic People's Republic of Korea (DPRK) earlier in which it vowed to go on with its uranium enrichment and nuclear weapon production programs.
"The provocative measures and remarks that the North will not give up its nuclear programs are tantamount to a challenge against the strong will of the international community to denuclearize the North and to establish peace and stability in the region," the Ministry of Foreign Affairs and Trade said in a comment posted on its official Web site.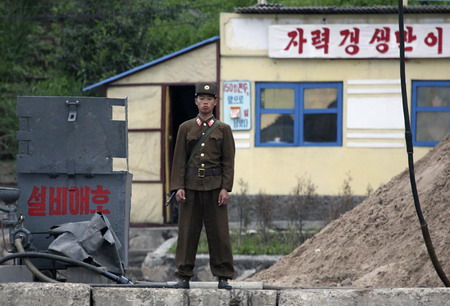 A soldier guards the bank of the Yalu River near the DPRK town of Sinuiju, opposite the Chinese border city of Dandong, June 13, 2009. [Agencies]
South Korean once again strongly urged the DPRK to resume the six-party talks and continue the denuclearization process, which is what the international society unanimously asks of the nation, the statement said.
Related readings:


 DPRK opposes UN resolution, vows to pursue more nuclear weapons


 UN Security Council imposes new curbs on DPRK


 UN council to vote on DPRK draft resolution


 China advocates balanced, moderate UN resolution on DPRK


 Source: DPRK may be preparing for new nuclear test
Earlier in the day, the DPRK government said it would restart producing nuclear weapons, as well as enriching uranium, in response to the U.N. Resolution 1874.
The DPRK said it will "weaponize all plutonium newly extracted," and warned that "if the US and its followers attempt to blockade the DPRK," the country will oppose it with "resolute military actions."
The UN Security Council on Friday unanimously approved wider sanctions against the DPRK over its May 25 nuclear test.
The resolution banned weapons exports from the DPRK and most arms imports into the country. It authorized UN member states to inspect DPRK's sea, air and land cargo, requiring them to seize and destroy any goods transported in violation of the sanctions.
The resolution condemned "in the strongest terms" the recent nuclear test conducted by the DPRK and demanded that the country "not conduct any further nuclear test or any launch using ballistic missile technology."