General Motors' CEO Fritz Henderson said the Chinese market would play an important role in the success of the so-called "New GM" that is to emerge from its Chapter 11 bankruptcy restructuring.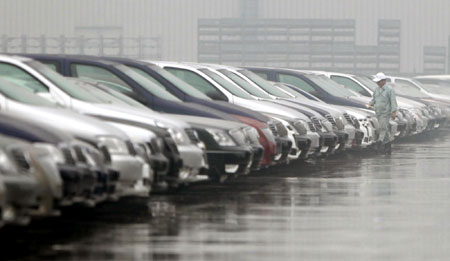 A worker walks amidst newly-produced cars at the parking lot of a General Motors factory in Shanghai June 2, 2009. General Motors Corp said on Tuesday it will need to build another China plant in the next five years if it is to meet a goal of selling 2 million cars in China within five years. [Agencies]
"China remains a key part of our business," Henderson said at a press conference held at Monday noon (local time) in New York. "Our ventures in China are a critical part of the new GM - unequivocally. Our business in China continues to grow at a very past, even torrid pace and remains a critical part of GM going forward."
Henderson also said the company had no plans to use its production facilities in China to sell cars in the US to build market share. "One of the bedrock principles has been to build where we sell," he said. "The same philosophy guides our business in China, where more than 99 percent of what we sell in China, we build in China."
Special Coverage


 Global Auto Industry Woes

Related readings:


Auto giant GM declares bankruptcy


GM hoping for speedy sale and exit from Chapter 11


GM says China operation unaffected

GM aims for restart


Obama: Nationalization of GM to be short-term
On the day the company filed for bankruptcy in the US, GM's China unit announced that it did not expect to be affected by the restructuring.
"Our plants across China will operate normally," said Kevin Wale, president and managing director of GM China at a media briefing in Shanghai yesterday. "There will be no change in payments to employees, dealers or suppliers contracted to GM China or to our joint ventures."
As for the company's future, the auto giant's business strategy and growth targets in China will also remain unchanged.
"GM's China operations will be injected into the 'New GM', so there won't be any disruptions in our activities," said Wale. "GM has a specific development plan in China for the next five years that demonstrates our great confidence in the country."
Last month, while GM was still struggling for survival, Wale announced an ambitious target of doubling the domestic sales over the next five years to over 2 million units, with more than 30 new or upgraded models to be launched.
"We need a new factory within five years to meet the increasing market demand," Wale had said then, refusing to disclose details.