RIO DE JANEIRO – Was Air France Flight 447 downed by wind and hail from towering thunderheads? By lightning? Or by a catastrophic combination of factors?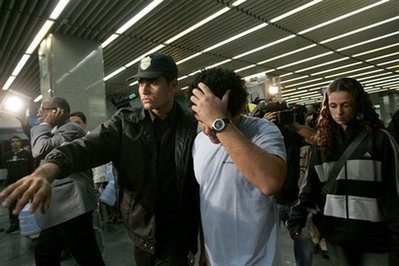 A man, looking for information on the Airfrance flight 447 that was reported missing on its way between Rio de Janeiro and Paris, is escorted by airport employees to a private room at Tom Jobim airport in Rio de Janeiro, Monday, June 01, 2009. [Agencies] 
Investigators were mulling several theories as to why the plane carrying 228 people disappeared over the Atlantic Ocean, while Brazilian and French military aircraft scoured a vast swath of ocean between Brazil and the African coast for the Airbus A330.
Related readings:


 High seas search for Air France jet continues


 Air France locates accident spot


 Air France flight missing with 228 aboard


 Air France KLM looking to China

Strike, slump fail to dent Air France
The flight left Rio de Janeiro on Sunday night en route to Paris - only to vanish after issuing an automated message that the electrical system had failed.
Brazil's largest airline, TAM, released a statement late Monday saying that pilots flying one of its commercial flights from Paris to Rio spotted what they thought was fire in the ocean along the Air France jet's route.
Air Force spokesman Col. Jorge Amaral told the Agencia Brasil official news service that authorities were investigating the report.
"There is information that the pilot of a TAM aircraft saw several orange points on the ocean while flying over the region," he said.
Two Brazilian air force jets were conducting night searches over the Atlantic early Tuesday. Six Brazilian aircraft, including two helicopters, were involved in the search, authorities said. The first of three Brazilian ships was expected to arrive in the remote area Wednesday.
Authorities have asked any commercial vessels in the area to aid in the search and France sought US satellite help to find the wreckage. A French search plane took off from a military base in Senegal on Monday, to be joined by two more and a naval vessel.
With nothing more to go on than the last point where Flight 447 made contact - about 745 miles (1,200 kilometers) northeast of the Brazilian coastal city of Natal - search teams faced an immense area of open ocean, with depths as much as 15,000 feet (4,570 meters).
If there are no survivors, as feared, it would be the world's worst aviation disaster since 2001.
On board the flight were 61 French citizens, 58 Brazilians, 26 Germans, nine Chinese and nine Italians. A lesser number of citizens from 27 other countries also were on the passenger list, including two Americans.
French President Nicolas Sarkozy said he told family members of passengers that prospects of finding survivors are "very small."
Brazilian President Luiz Inacio Lula da Silva expressed hope that survivors could be found.
Air France was helping Brazilian relatives of the passengers at the airport in Rio. Bernardo Ciriaco, a civil servant, said he arrived at the airport in a panic because he knew his brother Gustavo was on one of two Air France flights heading to Paris on Sunday night.