WASHINGTON - President Barack Obama on Tuesday will propose the most aggressive increase in US auto fuel efficiency ever, a policy that also aims to end a dispute with California over cutting tailpipe emissions.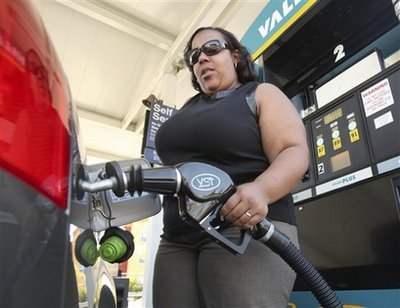 Dr. Shelley Jones removes the nozzle from her car after getting gas at a Valero station in Sacramento, Calif., Tuesday, May 12, 2009. [Agencies]

A senior administration official, speaking to reporters late on Monday on the condition of anonymity, said average fuel standards for all new passenger vehicles would rise by 10 miles (16 kilometers) a gallon (3.8 liters) over today's performance to 35.5 miles (56.8 kilometers) a gallon between 2012-16.
Tailpipe emissions would fall by more than 30 percent, the official said.
"All cars get cleaner," the official said.
Related readings:


 Clinton stresses energy efficiency in emission reductions


 Calif adopts low-carbon fuel rule

 Obama seeks a new era of energy exploration in US


 Obama promotes alternative energy on Earth Day


 Developed nations should lead in emission cuts
US and key overseas automakers, like distressed General Motors Corp and efficiency leader Toyota Motor Corp of Japan, support the plan, an industry trade group said.
California also supports the proposal, the official said. California has sought a waiver from federal environmental law to impose its own regulations to cut auto emissions, which auto companies have sued to block.
"California has agreed that they will defer to the proposed national standard," the official said.
Tailpipe emissions would be cut by more than 30 percent under the plan, the official said, which is more ambitious than what California and other states that support its initiative have sought.
The new policy would give automakers flexibility to meet the standards and would weigh the impact on the environment of carbon-based fuels and other vehicle systems that emit emissions, like air conditioners.
"This could be the breakthrough we've been looking for on clean cars," said David Friedman, research director of the clean vehicle program at the Union of Concerned Scientists.
The plan assumes average gas prices of $3.50 per gallon by 2016, which administration officials hope will help push consumers into more fuel-efficient cars and trucks.
More recent declines in gas prices in the later half of 2008 and so far this year due to recession and reduced demand have revived sales, in some cases, of less efficient pickups and SUVs.
To help lift the industry out of its sharp sales slump, Congress is considering legislation that would offer consumers up to $4,500 to trade in older, less fuel efficient models for vehicles that get sharply higher gas mileage.
Separately, a key committee in the US Congress on Monday kicked off what promises to be a week-long climate change debate as Democrats aimed to advance a bill to slow global warming and Republicans maneuvered to kill a central part the plan they say will hurt the US economy.