BEIJING – The United States risks a Japan-style lost decade of growth if it does not take aggressive action to stimulate its economy and clean up its banking system, Nobel Prize-winning economist Paul Krugman said on Monday.
"We're doing half-measures that help the economy limp along without fully recovering, and we're having measures that help the banks survive without really thriving," Krugman said.
"We're doing what the Japanese did in the nineties," he told a small group of reporters during a visit to Beijing.
Related readings:


 Stress tests fail to lift cloud of uncertainty


 US bank stress test results postponed


 Stress lifts ahead of today's bank test report

 Nobel winner Krugman says global recession likely


 US economist Paul Krugman wins Nobel Prize
"I'm mostly worried that the US and the euro zone will have Japanese-type lost decades," he said.
Krugman said he expected little or no employment growth this year or next in the United States, where the jobless rate in April hit a 25-year high of 8.9 percent.
"A second stimulus is becoming clearly urgent. They need a very, very strong stimulus," said Krugman, a Princeton University professor and a New York Times columnist.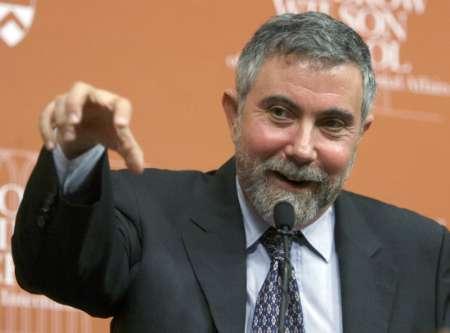 2008 Nobel prize winner in economics, Princeton University professor Paul Krugman gestures while speaking at a news conference on the campus of Princeton University in Princeton, New Jersey, October 13, 2008. [Agencies]
He said stress tests carried out on 19 leading US banks had bought time for the administration of Barack Obama, but they had not answered the key question of whether the banks have enough capital to fulfill their key role in the economy.
"It's clear the administration won't take radical action to strengthen the banks any time soon," he said. To have done so would have meant temporarily nationalizing Citigroup and, perhaps, Bank of America, he said.
Krugman gave credit to China for vigorously implementing its own economic stimulus plan.Krugman said China should not be in a rush to make the yuan, or renminbi (RMB), fully convertible or to liberalize its capital account; countries at a similar stage of development that have scrapped capital control run into trouble, he noted.