"I was a little bit nervous when the nurse told me that my temperature was 37.2C - it is really not a good time to have a fever!
"I am glad it is normal now," Zeng Ping, who is under quarantine in Beijing after having traveled in the same flight as a Mexican who was later confirmed to have contracted A(H1N1) flu, told China Daily yesterday. Body temperature in the 36.5-37C range is considered normal.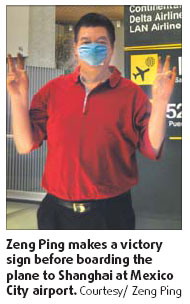 Zeng, in his 50s and the deputy director of China Today magazine's Latin America bureau in Mexico City, was among the 17 people who were on the Mexico City-Shanghai flight with the flu patient and later flew to Beijing.
Fifteen of them have been on a seven-day quarantine in Beijing since last Saturday; and the other two in Hebei and Jiangsu provinces.
"I was really not surprised when staff from the Beijing Disease Control and Prevention Center rang my door bell at 4 am Saturday morning," Zeng wrote on his Internet blog, sharing his life in quarantine.
"I knew they would come after I heard about the 25-year-old Mexican who was on the same flight and was diagnosed with the deadly flu in Hong Kong."
Zeng said he did not know how close he was sitting to the patient but "I knew the flu situation was deteriorating in Mexico before I boarded the plane back home on April 29".
On Saturday morning, Zeng and the other 14 were taken to Beijing Ditan Hospital for quarantine. Of them, five are foreign nationals, said Cheng Jun, vice-director of the hospital.
"I was isolated in a ward with a bathroom and a TV, and whatever I needed was delivered through a little window by nurses wearing protective gear," said Zeng. "Everything reminded me of SARS."
Zeng and his "quarantine mates" were moved to Guomenlu Hotel around 6 pm yesterday after none of them was found to have H1N1 flu symptoms.
"We were taken to the hotel in separate ambulances escorted by police last night, although the hotel was only 200 m away from the hospital! The nurses are staying in the hotel with us for daily check-ups.
"I feel more relaxed now. I am glad I am out of the hospital."
There is no other guest in Guomenlu Hotel except the 15 who were transferred from the hospital. A receptionist said all the guests had left, and the hotel had suspended bookings until further notice.
"Although we are allowed to have dinner together in the restaurant, we decided to eat in our rooms to have minimum contact just in case one of us is infected," Zeng said.
"No one is moaning about being quarantined, everybody knows it is necessary," Zeng said. "We have to be responsible to ourselves, our families and our country. We don't want see another SARS in China."
Zeng said he was planning to write a book about his experience in Mexico and China during the H1N1 flu outbreak as he has first-hand material.
For now, he is just counting down the days to the end of quarantine. "Two days gone, five to go."