LONDON: Carol Ann Duffy was named Poet Laureate on Friday, the first woman to hold the title in the post's 341-year history.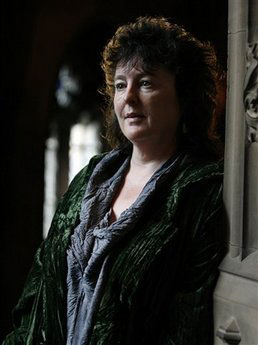 Poet and writer Carol Ann Duffy seen at John Rylands Library in Manchester, England, Friday, May 1, 2009, after she was awarded the role of national poet laureate, the first woman to hold a post, which in the past has been filled by William Wordsworth, Alfred, Lord Tennyson and Ted Hughes among others. A witty and popular writer whose work is widely taught in British schools, Duffy is also the first openly gay laureate. Duffy said she had thought 'long and hard' before accepting the job which is appointed by the queen, and which now has a 10-year term. [Agencies] 
The 53-year-old, born in Glasgow, Scotland, said she had thought "long and hard" about accepting the position, seen by some as a poisoned chalice due to the public scrutiny that comes with it.
Duffy was firm favorite to take over the role from Andrew Motion, who has stepped down after completing a 10-year tenure.
The royal post, held by the likes of John Dryden, William Wordsworth and, before Motion, Ted Hughes, used to be for life, but Duffy, like Motion, will hold it for 10 years.
"I look on it as a recognition of the great women poets we have writing now," Duffy told BBC Radio. "I've decided to accept it for that reason."
She had been in the running for the role in 1999 but lost out to Motion over what media reports said were concerns about how people would react to a lesbian laureate.
Duffy is probably best known for her 1999 collection The World's Wife in which she tells the stories of the women behind some of the leading men through history.
Other highlights among her collections, many of which have won major awards, are Standing Female Nude (1985), Mean Time (1993), Feminine Gospels (2002) and Rapture (2005). Duffy also writes picture books for children and plays.
Last year, Britain's biggest exam board, AQA, was accused of censorship after it removed a poem by Duffy containing references to knife crime from the GCSE syllabus.
The poem starts: "Today I am going to kill something. Anything./I have had enough of being ignored and today/I am going to play God."
Prime Minister Gordon Brown called her "a truly brilliant modern poet who has stretched our imaginations by putting the whole range of human experiences into lines that capture the emotions perfectly."
Judith Palmer, director of the Poetry Society, which marks its centenary this year, also welcomed the appointment.
"It shows how far this country has come that a woman, and a woman like Carol Ann, can hold an appointment such as Poet Laureate," Palmer said. "That is incredibly heartening for all of us."
The new appointment is likely to reignite debate over whether Britain really needs a Poet Laureate, who is expected to compose poems to mark major state occasions.
Reuters