MEXICO CITY -- Mexico's top medical officer voiced optimism Thursday that swine flu has slowed in the nation hardest hit by the virus, but the World Health Organization cautioned there is no evidence the worst of the global outbreak is over.
The US caseload rose slightly to 109 as hundreds of schools nationwide shut their doors, and the crisis even reached the White House, which said an aide to the secretary of energy apparently got sick helping arrange a presidential trip to Mexico.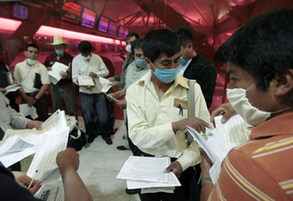 Mexican passengers prepare their papers before getting to the counter of Air Canada in Mexico City April 30, 2009. [Agencies]
more photos
European health ministers vowed to work quickly with drugmakers to rush a vaccine into production, but American health officials suggested inoculations could not begin until fall at the earliest.
Mexican Health Secretary Jose Angel Cordova told The Associated Press new cases have leveled off and the death rate has been nearly flat for several days. He said the next few days would be critical in determining whether the virus was truly on the decline.
"The fact that we have a stabilization in the daily numbers, even a drop, makes us optimistic," he said. "Because what we'd expect is geometric or exponential growth. And that hasn't been the situation. So we think we're on the right track."
The health ministry, which earlier said 168 people were believed killed by swine flu in Mexico, on Thursday would only confirm 12 of those deaths and would not say how many were suspected.
The World Health Organization's top flu official, responding to similarly hopeful remarks from other Mexican officials, sounded a more cautious note about whether the virus had peaked.
Full Coverage:


Swine Flu Outbreak
Related readings:


 WHO says swine flu pandemic is imminent


 Little boy, far from home, 1st US swine flu death


 Egypt orders slaughter of all pigs over swine flu


 Asia-Pacific on high alert as swine flu fears intensify
"For things to go up and down in a country is expected. If it didn't do that would be very unusual," Dr. Keiji Fukuda said in Geneva. "Hopefully we'll see more of the data of what's going on there. But I expect even in Mexico you will see a mixed picture."
Mexico has imposed what amounts to a five-day shutdown of the country, beginning Friday, in hopes of slowing the virus. All but the most essential government services will be suspended, most businesses have been urged to close, and Mexicans have been encouraged to stay in their homes.
On Wednesday, the WHO said swine flu threatened to become a pandemic, and for the first time it raised its threat level to Phase 5, the second-highest. Fukuda said Thursday there were no immediate signs that warranted declaring a Phase 6 pandemic.
Phase 5 means a virus has spread into at least two countries and is causing large outbreaks. Phase 6 means outbreaks have been detected in two or more regions of the world and a pandemic is under way.
The only confirmed US swine flu death so far is a Mexican toddler who succumbed earlier this week in Texas. New cases of swine flu were confirmed Thursday in Europe, but no deaths have been reported outside North America.
In the United States, Vice President Joe Biden stirred concern by saying in an NBC interview that he would discourage family members from flying or even taking the subway because of the swine flu threat.
The White House insisted Biden meant to say he was discouraging nonessential travel to Mexico, and Transportation Secretary Ray LaHood was compelled to state flatly: "It is safe to fly. There is no reason to cancel flights."
The US government has urged Americans to wash their hands and to stay home from work and avoid traveling if they feel ill.
An aide to Energy Secretary Steven Chu apparently got sick helping arrange President Barack Obama's recent trip to Mexico. The aide did not fly on Air Force One and never posed a risk to the president, the White House said.