MEXICO CITY -- Governments around the world tested patients for the new H1N1 swine flu virus on Wednesday, hoping not to find it and dreading its spread.
The World Health Organization doled out a steady toll of figures, saying the virus had officially been confirmed in Mexico, the United States, Canada, New Zealand, Britain, Israel and Spain.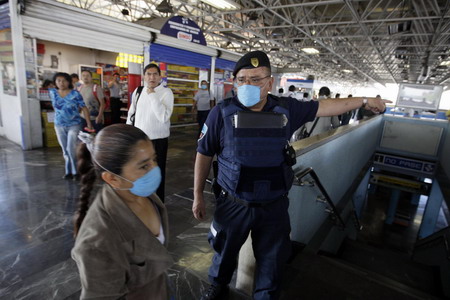 A policeman with a surgical mask directs passengers at the Chabacano subway station in Mexico City April 28, 2009. [Agencies]
But at the same time officials said the numbers were not a clear indicator of the threat posed by the virus, as it takes days to confirm the new strain and most countries began taking action the moment suspected cases turned up.
Full Coverage:


Swine Flu Outbreak
Related readings:


 United States and Mexico battle swine flu


 China offers Mexico $5m in swine flu aid


 Swine flu samples burst in Swiss train, no threat


 At least 5 hospitalized in US with swine flu
The US Centers for Disease Control and Prevention was working to distribute test kits for the virus, identified only last week in the United States. Without the kits, verifying infection can take days.
Mexico remained the only country with deaths -- 159 by the government's estimate -- and the epicenter of the outbreak.
Health Minister Jose Angel Cordova said on Tuesday night that more than 1,300 people were in hospitals, some of them "seriously" ill, out of a total of around 2,500 suspected cases of the virus.
"In the last few days there has been a decline (in cases)," Cordova told a news conference. "The death figures have remained more or less stable."
Cordova said the victims ranged from children through young adults and middle-aged people to the elderly, a different pattern to common seasonal flu that mainly kills the elderly and people with other underlying conditions.
"The distribution doesn't follow a fixed pattern," he said.
US officials confirmed 65 cases, mostly mild, and no deaths, but acting CDC director Dr. Richard Besser found little comfort in that.
"Numbers when it comes to an outbreak like this will change," Besser said. "As we continue to investigate cases here, I expect that we will see deaths in this country."
Pandemic Warning
The WHO has edged up its pandemic warning to a stage 4 and said if it looked like people with no connection to Mexico were infecting more than just one other person, they would declare a stage 5 alert, meaning a pandemic was imminent.
Markets could be expected to react to another WHO move but appeared uncertain about the risk. Pork and related commodities such as grain and soybeans were affected but there were no big swings in currency markets.
Mexico City was unusually quiet with schools closed. Many took their children in to work, including a ruling party lawmaker whose young kids spent the day in Congress.
People canceled beautician appointments, wary of close physical contact. "The customers are scared stupid. They don't want to go out," said hairdresser Esther Gonzalez.
As suspected cases began to crop up across Central America, El Salvador began sending nurses to check buses of Salvadoran migrants being deported from Mexico for flu-like symptoms.
Other countries worked to try to prevent travelers from bringing flu in.