There has been no report of a suspected or confirmed human case of swine flu in the nation as the epidemic crossed new borders with the first cases confirmed in the Middle East and the Asia-Pacific region.
The number of deaths in Mexico blamed on the virus crossed 150, and the World Health Organization (WHO) raised the alert level to Phase 4 from 3, meaning there is sustained human-to-human virus transmission causing outbreaks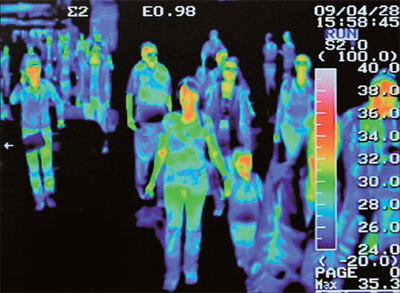 A thermal scanner shows the heat signature of passengers from an international flight arriving at Incheon airport in Seoul Tuesday. The country Tuesday said it had a "probable case" of swine flu - a 51-year-old woman. [Agencies]
President Hu Jintao Tuesday sent a message to his Mexican counterpart Felipe Calderon to express sympathy with families of the vicitms.
State leaders Tuesday called for stepped-up prevention and control measures to cope with the situation.
The directives follow remarks by Dr Hans Troedsson, the WHO Representative in China, who told a press conference Tuesday that there are "flu-like cases under investigation" in the country.
Full coverage:


 Swine Flu Outbreak
Related readings:


 Flu spreads to Mideast, Asia-Pacific


 Swine flu cases in New Zealand confirmed


 Second suspected case of swine flu reported in Israel
The WHO has been informed that several students were suffering from respiratory symptoms in Shaanxi province; and whether they are linked to swine flu is being investigated, he said.
But tests showed that the students "just caught a cold and had completely recovered by April 22," Liu Shaoming, head of the provincial health administration, told Xinhua.
The Ministry of Health (MOH) Tuesday also said it found no case of confirmed or suspected illness, nor a similar virus in pigs.
Hu and Premier Wen Jiabao have called for beefed-up efforts to prevent human cases.
The State Council also stipulated measures including a "direct reporting system featuring early discovery, early reporting, early diagnosis, early quarantine and early treatment".