PRAGUE -- Michelle Obama's whirlwind tour of Prague turned into a love affair with a city and its people. "I'll be back," she said.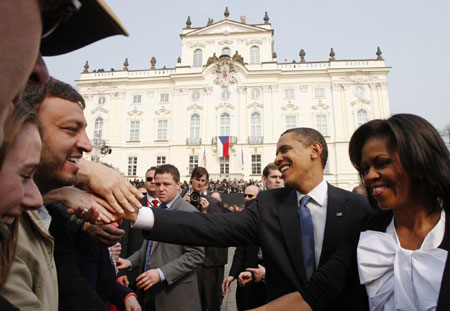 US President Barack Obama and first lady Michelle Obama greet supporters after speaking in Hradcany Square in Prague April 5, 2009. [Agencies] 
Crowds of young Czechs and tourists chanting "Obama! Obama!" waved at the first lady as she walked the cobblestones of the Jewish Quarter. She waved right back, and there were no angry faces as far as the eye could see.
"She was totally with them," said Michaela Sidenberg, her guide.
Mrs. Obama's tour started in the morning, when Czech first lady Livia Klausova showed her around Prague Castle, the seat of the Czech presidency.
Having apparently been warned about Prague's omnipresent cobblestones, Mrs. Obama wore flat shoes. She also wore a black Michael Kors skirt, matching Alaia Azzedine cardigan and white Moschino top on a chilly morning that slowly warmed into a beautiful spring day.
The first ladies walked around the St. Vitus Cathedral, the city's most distinctive landmark, which dates from the 10th century.
They then moved to the nearby St. George's basilica, built in the same era, to see the sights and listen to a concert performed by visually impaired children who played "Darmstadter Concert" by Carl Stamitz and "Stabat Mater" by Giovanni Battista Pergolesi.
"She is a natural and a very nice person," Klausova said of Mrs. Obama, to whom she presented a gift of Czech glassware. In return, she said, she got "a nice American vase."
Did they talk politics on a day that buzzed with reports of a Pyongyang rocket launch?
"Yes, a little bit -- we had to," Klausova said.
The two presidential wives spent two hours touring the Jewish Quarter's synagogues and unique cemetery. Their visit included a stop at the Pinkas synagogue, whose walls bear the names of more than 80,000 Czech Holocaust victims, including the ancestors of Madeleine Albright, the Czech-born former US secretary of state.
Leo Pavlat, the director of Prague's Jewish Museum, said Mrs. Obama liked the inside of the synagogue -- "especially the exhibit of children's drawings from the Theresienstadt ghetto."
There were a few somber moments at the tiny cemetery, jammed with some 12,000 family gravestones crowded into a little garden near the Vltava River, and about 100,000 dead buried in several layers beneath them.
Mrs. Obama stood briefly by the oldest gravestone -- that marking the resting place of poet Avigdor Kara, who died in 1439 -- before moving to the grave of the legendary 16th century rabbi Yehudav Loew, considered one of the greatest Jewish scholars and philosophers. In keeping with local custom, she placed a prayer on a piece of paper and weighted it down with a little stone.
Their last stop was the Old New Synagogue, built around 1270 -- the oldest synagogue in Europe, and one of the earliest Gothic buildings in Prague.
Saying goodbye to the leaders of Prague's Jewish community, Mrs. Obama appeared moved.
"It was a wonderful visit, but much too short," she said. "I'll be back."