PYONGYANG/SEOUL -- Pyongyang has successfully launched a rocket carrying a communications satellite Sunday, official media reported.
Full Coverage:


DPRK Rocket Launch
Related readings:


South Korea says DPRK launch fails


China urges calm on DPRK launch


Full text of KCNA report on 'successful satellite launch'


Russia confirms DPRK rocket launch


Japan protests "regrettable" launch


US says launch is 'provocative act'


Japan launches no interceptor


Japan redfaced over false report
The "Unha-2" rocket was launched at 11:20 am local time (0220 GMT) from the East Sea Launch Ground in the east coast of the country, the Korean Central News Agency (KCNA) of the Democratic People's Republic of Korea's (DPRK) said.
"Kwangmyongsong-2" satellite was sent into orbit at 11:29 am local time (0229 GMT), the report said.
The launch had a "decisive meaning" for the DPRK in advancing its work of space exploration for peaceful purposes and solving technological problems to test-fire practical satellite in the future, it said.
South Korean and Russian news agencies also citing official confirmations that the launching vehicle was carrying a satellite, dismissing speculations that it was a disguised missile launch.
"We believe North Korea (DPRK) fired a rocket carrying a satellite," a South Korean government official was quoted as saying by the Yonhap news agency.
"The DPRK sent an artificial satellite into an earth orbit on the morning of April 5," Russian Foreign Ministry spokesman Andrei Nesterenko was quoted by the Interfax news agency as saying.
However, US President Barack Obama, who is visiting Europe, said that the DPRK launched a "Taepodong-2 missile" in violation of UN Security Council Resolution 1718. [Obama: DPRK launch threatens nations near, far]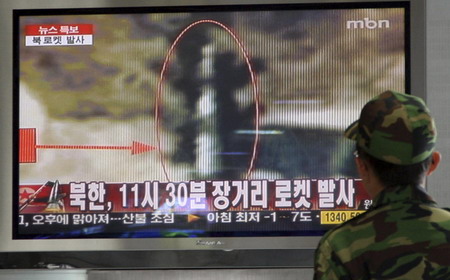 A South Korean soldier watches a TV news report on DPRK's rocket launch, at a railway station in Seoul April 5, 2009.[Agencies] More Photos
Japan's Chief Cabinet Secretary Takeo Kawamura said his country is yet to confirm whether the rocket carried a ballistic missile or a communications satellite.
No damage to Japanese territory has been reported as a result of the launch and nothing has fallen on Japan so far, Japan's Kyodo news agency quoted the top Japanese government spokesman as saying. [Full Story]
The Japanese government believed the DPRK's rocket launch violated UN Security Council resolutions whether it was a satellite or a missile.
The UN Security Council approved an emergency session Sunday to deal with the rocket launch after Japan submitted a formal request. [UN Chief Regrets]
The EU said the launch put strains on regional stability, and it would continue supporting efforts to resolve the security issues on the Korean Peninsula in a peaceful manner.
"These actions place additional strains on regional stability at a time when the unresolved nuclear issue on the Korean Peninsula requires mutual confidence building," the EU said in a statement. [Full Story]
In the wake of the launch, the US State Department said it will take appropriate steps in response to what it called a "provocative act." [Full Story]
However, as a positive sign, Obama said the six-party talks will continue providing the forum for achieving denuclearization and reducing tensions in the Korean Peninsula.
China and Russia called for restraint from all parties concerned after the launch.
"We hope relevant parties keep calm and restraint, properly handle this issue, and work together to safeguard peace and stability of the region," said Chinese Foreign Ministry spokeswoman Jiang Yu.
Russia urges all the states concerned to "show restraint in judgments and actions in the current situation," said Nesterenko, the Russian Foreign Ministry spokesman.
The DPRK said in February its launch of the satellite was part of a peaceful space program. It also said it is entitled to develop its own space program and other countries like the United States have no right to interfere.
The DPRK said it put an experimental satellite "Kwangmyongsong-1" into orbit in August 1998. But the United States said that it was a "Taepodong-1" missile test-launch.