HONG KONG -- World stock markets soared Thursday, with Hong Kong's benchmark vaulting more than 7 percent, as stronger-than-expected US economic figures boosted confidence the world's largest economy is on the mend.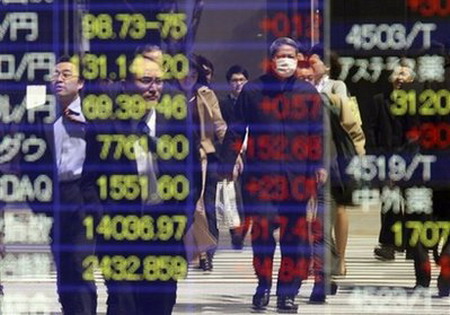 Pedestrians are reflected on a brokerage's electric stock prices board in Tokyo Thursday, April 2, 2009. [Agencies]
Huge gains in Asia and a strong open in Europe followed an overnight surge on Wall Street and extended last month's rebound in world equity markets amid tentative signs of stabilization in the hard-hit global economy and banking industry. It came as Group of 20 leaders met in London for a summit that aims to hammer out policies to combat the economic slump and reform the global financial system.
Nearly every sector in Asia charged higher, with carmakers like Toyota Motor Corp. and Nissan Motor Co. rallying on US auto figures that were less dismal than feared. Exporters such as Sony Corp. were lifted by the weakening yen.
Investors were encouraged after US car sales jumped by nearly 25 percent last month from February, beating the typical rise and underpinning hopes of a turnaround in the American auto market, critical for Asia's giant auto companies.
A rebound in pending US home sales in February from a record low, as well as improving manufacturing activity, added to a growing belief the most severe global downturn in decades may be moving close to a bottom.
Still, the upbeat evidence distracted investors from more sobering news the US private sector continued to shed hundreds of thousands of jobs last month, a worrisome sign as investors brace for Friday's report on nationwide job cuts. Meanwhile, there were signs of widening divisions between major nations at the G-20 meeting.
With the economic crisis still far from over, analysts warned of more painful market volatility as the recession unfolds.
"We're starting to see some initial signs of green shoots. The question is whether or not this is a sound foundation for stability in the economy," said Song Seng Wun, head of research at CIMB-GK in Singapore. "It's still hard to tell."
In early European trade, Britain's FTSE 100 jumped 2.9 percent, Germany's DAX gained 3.2 percent and France's CAC was up 3.1 percent. Stock futures pointed to more gains on Wall Street. Dow futures were up 132 points, or 1.7 percent, to 7,850 and S&P 500 futures gained 14.8, or 1.8 percent, to 824.
In Asia, Japan's Nikkei 225 stock average jumped 367.87 points, or 4.4 percent, to 8,719.78, while Hong Kong's Hang Seng led the region's gains, soaring 1,002.43 points, or 7.4 percent, to 14,521.97. South Korea's Kospi added 3.5 percent to 1,276.97.
Elsewhere, benchmarks in Australia and Taiwan gained about 3 percent. Singapore jumped 5.3 percent and India's Sensex climbed 4.9 percent.
Auto companies turned in a strong performance, with Toyota up 5.5 percent and Nissan Motor Co. vaulting 14 percent. Banks roared ahead as well. Mizuho Financial Group, Inc. gained 8.9 percent and Sumitomo Mitsui Financial Group, Inc. rose 7.4 percent.
Sentiment got a lift from overnight gains on Wall Street, where investors were stretched out a four-week rally that's taken the market off its lowest levels in 12 years.
The Dow rose 152.68, or 2 percent, to 7,761.60, and broader market indicators also rose. The Standard & Poor's 500 index rose 13.21, or 1.7 percent, to 811.08.
Oil crept above $49 a barrel in Asia as investors weighed glimmers of hope in the US economy against concerns that global demand remains weak. Benchmark crude for May delivery rose 98 cents to $49.37 a barrel. The contract fell $1.27 on Wednesday to settle at $48.39.
In currencies, the dollar rose to 99.25 yen from 98.42 yen, and the euro gained to $1.3261 from $1.3245.