Six volunteers from Europe and Russia were yesterday to climb into a capsule in Moscow and spend three months in isolation to simulate conditions for an eventual manned mission to Mars.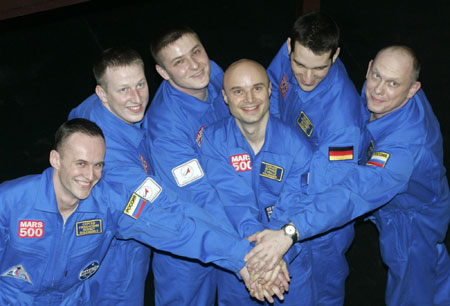 Participants in an experiment that simulates the spacial confines experienced during a trip to Mars pose for a picture before entering a test champer in Moscow March 31, 2009. [Agencies] 
The two Europeans and four Russians will not be allowed to leave the facility until the experiment ends 105 days later, allowing scientists to assess the effects of long duration space flight on their minds and bodies.
"How do I feel? I am very motivated. There is a kind of relief. We have been working for a long time and finally we are getting to the start point," Frenchman Cyrille Fournier said.
Once the six men enter the facility at Russia's Institute of Biomedical Problems (IBMP), they will not emerge for the next three months unless they decide to pull out of the experiment. The six were allowed to take books, laptops and DVDs into the facility in Moscow. The aim of the experiment is to imitate the need for full autonomy of the crew for what the year-and-a-half round trip to Mars would entail.
The 550 cubic meter facility is made out of three modules - one for storage of food, a "medical module" and a unit where the participants will live. There, each participant will have tiny individual bedrooms a maximum of 3.2 sqm. They will also have to sleep on occasions with a 128-electrode cap to record brain activity.
The experiment is a joint project between the IBMP and the European Space Agency (ESA) and will lay the path for an even tougher Mars mission simulation later in 2009.
Name game for ISS room
NASA's outreach to the public to drum up interest in the International Space Station has pushed the agency in a corner.
In an online contest to name the station's new living quarters, Stephen Colbert, a comedian and news commentator on Comedy Central, got 230,539 write-in votes for the name 'Colbert'. The top NASA-suggested name, "Serenity," finished more than 40,000 votes behind.
Contest rules stipulate that the agency retains the right to basically do whatever it wants. "We have a plan and we're working with some folks and in a couple of weeks you'll know what the answer is," NASA's associate administrator Bill Gerstenmaier said.
AFP-Reuters