TOKYO -- Japan's exports fell by nearly half in February from a year earlier, a record monthly drop, the government said Wednesday, as the relentless slump in overseas demand deepened its grip on the world's second-largest economy.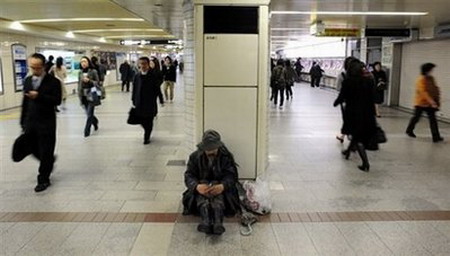 Commuters walk past a homeless man in an Osaka train station. Japan's heavy dependence on foreign markets means its economy has been one of the worst affected by the global economic downturn. [Agencies]
Full Coverage:


World Financial Crisis
Related readings:


 Japan's bailout package subtly different


 Japan keeps key rate unchanged, raises bond purchases


 Japan downgrades business conditions for 6th straight time


 Japan mired in recession, no sign of quick recovery
Exports tumbled 49.4 percent from the previous year, the sharpest decline since the Ministry of Finance began compiling comparable data in 1980. Demand plunged in all regions of the world, particularly North America, Europe and Russia.
Japan, which had relied foreign sales of its cars and gadgets to drive economic growth, now finds itself mired in its deepest recession since the end of World War II as consumers and companies around the world slash spending. The International Monetary Fund expects the Japanese economy to contract 5.8 percent for the 2009 calendar year, though many economists predict it could be far worse.
The slowdown in the domestic economy has also sapped imports, which fell 43 percent in February from a year earlier.
As a result, Japan posted its first trade surplus in five months, breaking a run of four straight months in the red. In January, the country posted a record trade deficit of 952.6 billion yen ($9.7 billion).
Global exports of motor vehicles plummeted 64 percent in February, with those to the US down 71 percent. Overall exports to the US fell 58 percent.
Japan's automakers have been among the hardest hit by the global downturn, and the latest ouput figures released Tuesday reflect impact of the ongoing slump.
Toyota Motor Corp., which is forecasting its first annual net loss since 1950, said its global production plunged by nearly half in February from a year earlier. Honda Motor Corp. reported a 43 percent drop in global output, while Nissan Motor Co. said its worldwide production declined 51 percent.