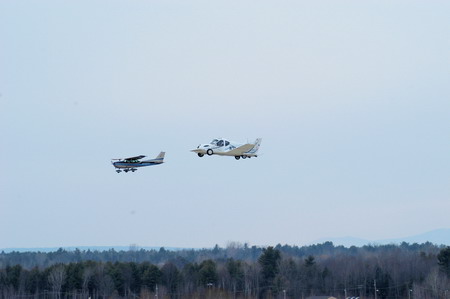 A flying car named Transition (right) hovers over the test field with a chase aircraft at Plattsburgh International Airport in Plattsburgh, New York, March 5, 2009. [CFP]
Terrafugia Inc, a company which spun off from MIT, has confirmed that its flying car, deemed a "roadable aircraft" and named Transition, has successfully completed a 37 second test flight. On March 5, 2009, at Plattsburgh International Airport in New York the vehicle took flight. It was piloted by Phil Meteer, a retired US Air Force colonel who is the company's chief pilot.
Terrafugia's Transition Roadable Aircraft Proof of Concept is a two-seat aircraft that can take off and land at local airports as well as drive on regular roads. Converting between the two modes takes all of 30 seconds.


Illustration of the trasformation process of Transition from a car to a small plane.
The company said that the flying car can travel at speeds up to 115 mph for 450 miles in the air, drive at highway speeds on the ground, and fold up to fit in a standard garage with a parked width of 81 inches and a height of 80 inches.
The chase aircraft was piloted by Giora Guth.