Japan's Maritime Self-Defense Force (MSDF) commissioned its largest helicopter-carrying destroyer similar in design to a small aircraft carrier on Wednesday amid international concerns.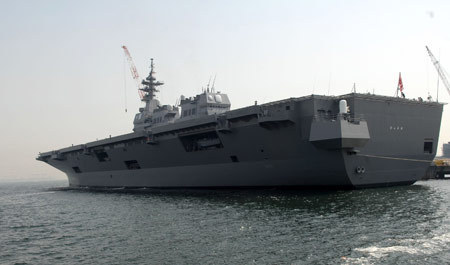 Japan's largest "helicopter carrier" the Huga anchors off Yokohama, a port city of Japan, March 18, 2009. [Xinhua]
The 197-meter long, 13,950-ton Hyuga, which can carry 11 helicopters on its flat deck, will be stationed in Yokosuka port, near Tokyo, and is expected to be sent on overseas missions such as disaster relief, according to the Defense Ministry.
The Hyuga has 340 crew, including 17 women officers and sailors on board, the first time since the Self-Defense Forces' was established in 1954.
Under Japan's post-war pacifist constitution, it renounced using or threatening force in international disputes. However, the Japanese Self-Defence Forces (SDF) is one of the best funded armies in the world.