Ill. state police: 1 killed in church shooting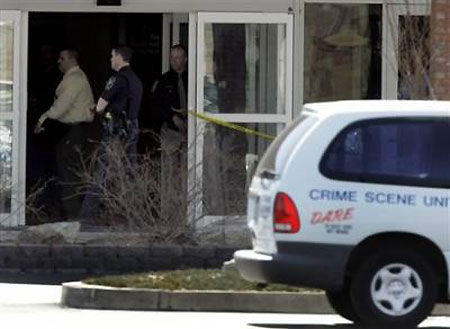 Law enforcement personnel stand at the main entrance to the First Baptist Church, March 8, 2009, in Maryville , Ill. [Agencies]
The gunman and one victim, 39-year-old Terry Bullard, were being treated at St. Louis University Hospital, said spokeswoman Laura Keller. Bullard underwent surgery for stab wounds and was in serious condition, she said.
Keller said the gunman was undergoing surgery early Sunday afternoon but could not provide his name, condition, or type of injuries.
The Rev. Mark Jones, another pastor at First Baptist, said he did not recognize the gunman, who he saw briefly before the man pulled out his weapon. Jones went into an adjacent room and did not see the shooting, though he heard a sound like miniature fire crackers.
"We have no idea what this guy's motives were," Jones said outside the church. "We don't know if we'll ever know that."
First Baptist parishioner Sharla Dryden pulled into the church parking lot for a 9:30 a.m. service in time to see "just a lot of chaos, lot of police, fire, and people just devastated."
"They just said there had been a shooting," said Dryden, 62. "I would have been devastated if anyone had been shot, but to hear it was the pastor was terrible. You just never expect this to happen at a church."
Winters, a father of two who had led First Baptist for nearly 22 years, was the former president of the Illinois Baptist State Association and an adjunct professor for Midwestern Baptist Theological Seminary, according to the church's Web site.
"Our great God is not surprised by this, or anything," Nate Adams, executive director of the Illinois Baptist State Association, said in a statement. "That He allows evil and free will to have their way in tragedies like this is a mystery in many ways. But we know we can trust Him no matter what, and draw close to Him in any circumstances."
Maryville is about 20 miles northeast of St. Louis.