MOSCOW  -- A Russian senior officer on Tuesday suspected that the collision between a US Iridium satellite and a Russian military satellite last month was manipulated by the United States intentionally.
Related readings:


 Investigation of satellite collision needs days


 Rocket with NASA global warming satellite crashes


 China alert on US-Russian satellite collision
Major general Leonid Shershner told the daily Moskovski Komsomolez that the US may be testing a new technology designed to intercept and destroy satellites from other countries.
Although the US Iridium 33 satellite was designed for peaceful purposes, yet it could be transferred for military purposes, the officer said.
He explained that the Iridium 33 satellite was equipped with a navigation system, which can detect any targets getting close to it and sent signal back to the control center on the ground, so that the ground center can change the satellite's orbit timely to avoid such accident.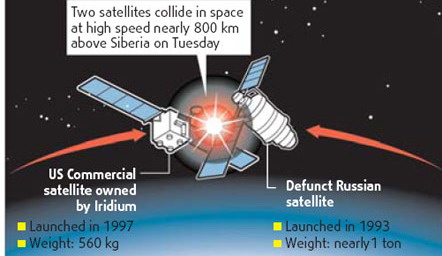 Unforturenately, such preventive measures did not occur, Shershner added.
The Russian satellite and the privately owned US communications satellite collided in space on February 10, shooting out a pair of massive debris clouds.
NASA believed that the risk caused by the collision to other spacecrafts is low.