ST. JOHNS, Ariz. – A 9-year-old boy accused of methodically shooting his father and his father's roommate to death last fall pleaded guilty Thursday to one count of negligent homicide, settling the case that shocked and mystified the nation.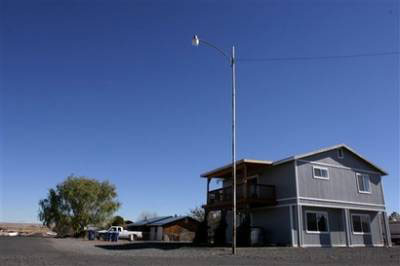 This November 8, 2008 file photo shows the house in St. Johns, Ariz. where Vincent Romero, 29, and Timothy Romans, 39, of San Carlos, Ariz. were found fatally shot. Police said Romero's 9-year-old son, who was 8 at the time, used a .22-caliber rifle to shoot the men as they returned home from work. The eastern Arizona boy pleaded guilty Thursday to a single count of negligent homicide. [Agencies] 
Under a plea agreement, he pleaded guilty in the death of the roommate and charges of premeditated murder for both deaths were dropped. Police said the boy used a .22-caliber rifle to shoot the men as they returned home from work Nov. 5.
The boy's plea spares the rural community of about 4,000 from what would have been an emotional trial and prevents the boy from serving time in the state juvenile corrections system or being tried as an adult.
He was polite in court and was never asked to explain any motive for the killings.
The boy has not yet been sentenced. He could be sent to the county juvenile system, which would keep him close to his relatives. Apache County Attorney Michael Whiting wants the boy to undergo extensive mental evaluations and treatment, an option allowed by the plea agreement.
Defense attorney Ron Wood said the plea deal was a compromise that wasn't expected to please everyone.
"I don't know it was the best thing. That remains to be seen," he said. "This resolution of the case causes more potential for working out in (the boy's) favor."
The boy's mother cried throughout the hearing and, through her lawyer, objected to the plea deal. But Superior Court Judge Michael Roca accepted it.
The boy was 8 when he was accused of shooting his 29-year-old father, Vincent Romero, and 39-year-old Timothy Romans, a co-worker who also rented a room from Romero.
Police in St. Johns found Romero and Romans shot to death after the boy ran to a neighbor's house. He was questioned after Romans' wife raised suspicions about him, and in a videotape released by prosecutors, he admitted pulling the trigger.
Police reports say the boy told a state Child Protective Services worker that his 1,000th spanking would be his last.
Prosecutors and defense attorneys struggled with what to do with a child who was charged with murder while he was so young. No child 8 years old or younger committed homicide in the United States during 2005-2007, according to FBI statistics.
Whiting said he spoke with the Romero family before giving final approval to the plea deal, and they agreed it was in the child's best interest for him not to be forced to admit to killing his father.
"If the kid is ever going to have a chance at a normal life, how is he going to deal with `I pleaded guilty to killing my dad,'" Whiting said.
A spokesman for the Romans family, John Andreas, said Romans' wife and two daughters were disappointed with the plea deal and that the case appeared to focus more on the boy than the victims.
"Tim is still dead. The boy took away something that is not replaceable," Andreas said. "There is no satisfaction."
Friends in the close-knit community said Romero, who had full custody of his son, was a caring father who seemed to be doing all he could to raise a polite and respectful boy.
Authorities said they had no record of any complaints filed about the boy with Arizona Child Protective Services and that the youngster had no disciplinary record at school.
Talk of a plea deal emerged less than a month after the shootings. The boy's other defense attorney, Benjamin Brewer, said at the time that he was unsure of his client's ability to understand the proceedings.
In court Thursday, the boy was more talkative and relaxed than in previous hearings, laughing and chatting with his lawyer and mother.
But his demeanor became more serious as the hearing got under way. The judge questioned him for nearly half an hour, about whether he understood his rights, the terms of the plea agreement and the consequences.
The boy answered respectfully and politely, using "yes, sir" or "no, sir" in most cases.
Roca drew laughter from the boy when he told him that once he turns 18, "you don't have to worry about me anymore, and that's a good thing."
As the judge wrapped up the questioning, he asked the boy if "this is what you want to do?" The boy responded "yes, sir."
The boy is due back in court for a pre-sentencing hearing on March 5.
Under the agreement, the judge will decide later whether the boy will be institutionalized or live with relatives. He will receive diagnostic evaluations and mental health examinations when he's 12, 15 and 17. The reviews are intended partly to determine whether the boy will pose any danger in the future.
The boy also won't be allowed to enroll in any public or private school unless evaluations determine that he doesn't pose a threat to himself or anyone else.