BARISAL, Bangladesh -- Officials said they were calling off the search for those still missing after a small ferry carrying about 60 people capsized on a river in southern Bangladesh early Thursday, killing at least 17 people.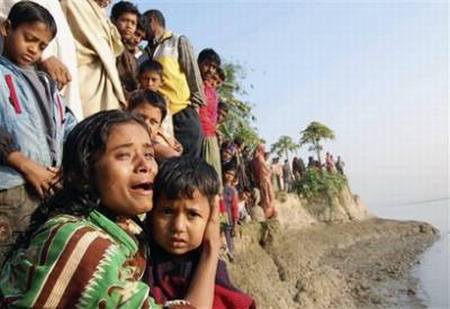 A Bangladeshi woman whose relatives are missing wails holding her child on the bank of River Kirtankhola, 120 kilometers (75 miles) south of Dhaka, Bangladesh, Thursday, Feb. 19, 2009. [Agencies]
The 60-foot-long (20-meter) ferry, which was rammed by a sand-laden trawler, was towed to shore and searched for bodies, but authorities called off the recovery effort late Thursday, said local river port official Rafiqul Islam. Rescuers recovered 17 bodies, he said.
"I think there are no more bodies," he said.
Witnesses saw more than 30 people swim some 650 feet (200 meters) to shore while onlookers using floats made of banana tree logs rescued survivors from the ferry, the ML Happy. Hundreds of onlookers and anxious relatives waited on the riverbank near Barisal, 75 miles (120 kilometers) south of the capital, Dhaka.
Hours after the ferry capsized, police said it was still unclear how many people were missing, and local media reported conflicting accounts ranging from 15 to 50.
Islam said there were about 60 people aboard, but he could not give a concrete figure. He said the ferry could hold up to 95 people. Even ferry operators in Bangladesh routinely don't know how many people are on board due to sloppy ticketing and casual security.
"I survived by swimming to the shore, but I have three young children missing," said 30-year-old Jasmine Aktar.
Ferry accidents are common in Bangladesh, a desperately poor delta nation of 150 million people. The accidents are often caused by overcrowding, poor boat maintenance, faulty navigation and safety rules that are not enforced.
In July 2003, at least 500 people were killed when a triple-decker ferry sank in the Meghna River in southern Bangladesh. Nearly a year later, a double-decker ferry capsized on the same river, killing as many as 200.