NEW YORK -- Investors are frustrated with the US government's latest bank bailout plan, and showed it by unloading stocks.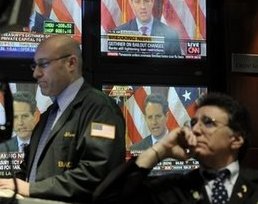 Traders work in a booth on the floor of the New York Stock Exchange as Treasury Secretary Timothy Geithner is seen on a television screens in background, Tuesday, Feb. 10, 2009. [Agencies]
The major stock indexes fell more than 4 percent Tuesday, including the Dow Jones industrial average, which tumbled 382 points. Financial stocks led the market lower, a sign of how concerned Wall Street is about the government's ability to restore the health of the country's banking industry. Demand for safe havens like Treasurys and gold rose.
Traders and investors complained about what they saw as a lack of specifics from Treasury Secretary Timothy Geithner on how the government will direct more than $1 trillion in public and private support to the financial system.
The plan is aimed at restoring proper functioning to credit markets, which seized up over worries about bad debt after the September bankruptcy of Lehman Brothers Holdings Inc. The latest plan calls for a government-private sector partnership to help remove banks' soured assets from their books. It would also boost an effort to unclog the credit markets that govern loans to consumers and businesses.
Full Coverage:


World Financial Crisis
Related readings:


Obama unveils bailout overhaul


US bailout could rise to $9.7 trillion


Obama readies road map for new bailout spending
"The good news is they are going to spend a trillion dollars, the bad news is they don't know how," said James Cox, managing partner at Harris Financial Group.
"They built this up as being a panacea," he said. "There was so much hope pinned on them to do a good job. The expectations have been so high. It's hard to live up to."
But Peter Jankovskis, co-chief investment officer at OakBrook Investments, said the government was right to outline a broad plan rather than putting something together hastily that might otherwise fail.
"They are doing the right thing by taking their time and not rushing through with bad policy," Jankovskis said.
Some investors questioned whether the plan, which followed previous efforts in the final months of 2008, would work. Some selling was to be expected, however, as stocks rose sharply last week ahead of the announcement.
Geithner's speech "basically puts a spotlight on the fact that the government has no idea how to fix the problem," said Jeff Buetow, senior portfolio manager at Portfolio Management Consultants. "People bought on rumor and hope, and now they're selling on reality."
Investors focused on the financial rescue showed little reaction to the Senate's approval of its $838 billion economic stimulus package. The bill must now be reconciled with an $819 billion version passed by the House. Congressional leaders hope to have the bill on President Barack Obama's desk before a recess next week.
"The economy is in deep trouble. The stimulus plan is not very stimulative. It's not addressing the real problem," Buetow said. "We have an insolvent financial system. The government is trying to find a comprehensive way to save it. They can't afford to just throw money at it. That's what they tried to do in the fall and that clearly did not work."
Stocks extended their slide after Federal Reserve Chairman Ben Bernanke didn't elaborate on the plan in testimony at a House Financial Services Committee hearing. Bernanke said the programs designed to revive the credit markets are showing promise and that any fix to the worst financial crisis since the 1930s would take time to work.
The Dow industrials fell 381.99, or 4.62 percent, to 7,888.88. It was the biggest drop for the Dow since Dec. 1, when the blue chips fell 680 points, or 7.7 percent.
It was also the lowest close since Nov. 20, when the blue chips finished at 7,552, a five-and-a-half year low. The Dow is still up 4.46 percent from that level, which many market observers hope will mark the bottom of the market's pullback since its record high levels of October 2007.
Broader stock indicators also tumbled. The Standard & Poor's 500 index fell 42.73, or 4.91 percent, to 827.16. It was the biggest drop for the index since the Obama inauguration on Jan. 20.
The Nasdaq fell 66.83, or 4.20 percent, to 1,524.73.
The Russell 2000 index of smaller companies fell 22.17, or 4.74 percent, to 445.77.
Declining issues outnumbered advancers by about 5 to 1 on the New York Stock Exchange, where volume came to 1.76 billion shares.
Tuesday's sell-off was more orderly than many of those seen last fall and stocks finished off their lows. While demand for government debt rose, buying wasn't occurring with the panic seen after the collapse of Lehman Brothers.
The yield on the benchmark 10-year Treasury note, which moves opposite its price, fell to 2.82 percent from 2.99 percent late Monday. The yield on the three-month T-bill, considered one of the safest investments, slipped to 0.30 percent from 0.32 percent late Monday.
The dollar rose against other major currencies. Gold prices also rose.
Light, sweet crude fell $2.01 to settle at $37.55 a barrel on the New York Mercantile Exchange.
Jankovskis, of Oak Brook Investments, said the government's plan doesn't resolve the question of how much the troubled assets weighing down banks' books are worth. By providing funds to purchase the assets or by buying them outright the government risks hurting banks by paying too little or hurting tax payers by paying too much.
"Valuation is the fundamental issue," Jankovskis said.
Scott Valentin, an analyst at Friedman, Billings, Ramsey & Co. said the government might be playing politics by not proposing measures that would touch off great debate in Washington and meet with public approval. A government takeover of a bank, for example, wouldn't be politically palatable, he said.
"There are some people that believe the government is dancing around the issue of what has to be done and what is politically acceptable," he said.
Valentin also said some of the drop in stocks could be hastened by short sellers -- investors who place bets that a stock will fall.
Short sellers last week snapped up shares of financial stocks to cover their bets in case Geithner's announcement sent stocks higher. Now, those investors can put their pessimistic bets back in place. This can weigh on the price of a stock and exacerbate selling.
Investors are simply left with many questions.
"I think generally we just don't know enough. We just don't know enough of what it all means," said Jon Biele, head of capital markets at Cowen & Co. "It's digestion time."
Bank stocks saw the biggest selling. Bank of America Corp. fell $1.33, or 19.3 percent, to $5.56, while Wells Fargo & Co. fell $2.71, or 14.2 percent, to $16.35.
Regional banks also showed big drops. Fifth Third Bancorp fell 70 cents, or 24 percent, to $2.19, while Huntington Bancshares Inc. fell 65 cents, or 25 percent, to $1.96. Conglomerate General Electric Co., which has a big finance arm and often trades like a bank stock, fell $1.02, or 8.1 percent, to $11.62.
Principal Financial Group Inc. fell $5.04, or 30 percent, to $11.99 after the insurer posted a fourth-quarter loss on investment and loan losses. The company's report raised fears that the company will be forced to raise cash.