MUNICH, Germany -- The 45th Munich Security Conference, which concluded on Sunday, was sure to be remembered for the years to come as the new US administration, determined to repair relations with Russia and Europe, set a so-called "new tone" in its foreign policy which could have deep repercussions around the world.
Related readings:


World powers to meet on Iran after US review


Obama names envoys for Mideast

US to use all elements of its power to deal with Iran


Russia offers US help in Afghanistan
"I come to Europe on behalf of a new administration determined to set a new tone in Washington, and in America's relations around the world. That new tone -- rooted in strong partnerships to meet common challenges -- is not a luxury. It is a necessity," said US Vice President Joe Biden in a much anticipated speech on Saturday.
In the first presentation outside the United States of the President Barack Obama administration's foreign and security policy, Biden outlined two major points in this "new tone," first to develop a new transatlantic relations, and second, to improve Washington's relationship with Russia with enhanced cooperation.
New Chapter in Transatlantic Relations
Distancing away from the Bush administration's proneness to unilateralism when dealing with the European allies, Biden said it's time to open a new chapter in the transatlantic relations. He promised that Washington will "sincerely" listen to its European allies and consult with them.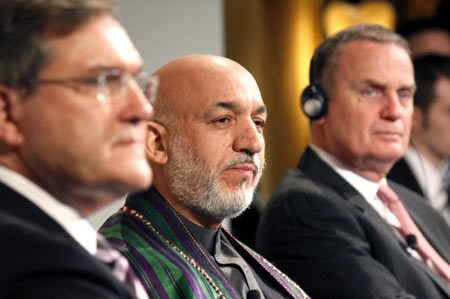 German Defence Minister Franz Josef Jung, Afghan President Hamid Karzai and US National Security Advisor James Jones (L-R) listen to a speech during the 45th Munich Security Conference February 8, 2009. [Agencies]
Bush's unilateral announcement of war on Iraq had caused a rift in EU-US relations, and Biden came to the repairing, saying that "in sharing ideals and searching for partners in a more complex world, Americans and Europeans still look to one another before they look to anyone else."
The new gestures from Washington drew positive reactions in Europe. Gert Weisskirchen, a Social Democratic spokesman on foreign policy of Germany, said Sunday that it was the first time in quite a long time that the Americans said they were willing to listen carefully to opinions of the Europeans, and was ready to jointly work with the European allies to address the common threats through joint actions.
European leaders attached great importance to and put a lot of hopes on Biden's first foreign trip since his taking office in January, sending leaders of the three most important EU nations -- German Chancellor Angela Merkel, French President Nicolas Sarkozy, and British Foreign Secretary David Miliband -- to meet him.
At least, the Europeans got what they would like to listen to, promises of collaboration from the other side of the Atlantic.
However, Biden was quick to drop hints that a new transatlantic relationship means the Europeans would have to contribute more.
"America will do more, but America will ask for more from our partners," he said. And he immediately asked for European help in accepting detainees in the Guantanamo detention camp, which America aims to close within one year, and in providing more troops and more assistance to Afghanistan.
The US government is planning to send as many as 30,000 more US troops to Afghanistan, and has made no secret that he wants Germany and other European countries to increase their involvement in the NATO-lead peacekeeping mission, but Germany and France have been reluctant to do so. And the German government is particularly cautious on the issue as the country holds the general elections in September this year.
German Defense Minister Franz-Josef Jung told Americans on Sunday that more efforts should be spent in reconstruction and police training in Afghanistan, saying that "we will not win by military means alone."
Commenting on some European nations' reluctance to provide more troops to Afghanistan, NATO Secretary-General Jaap de Hoop Scheffer said Saturday that it was not the right balance within NATO. New transatlantic relations not only need joint leadership, but also need the sharing of joint responsibilities.
"If Europe wants a greater voice, it needs to do more," he said.
Russia Welcomes Signal to Better Ties
Relations between Washington and Moscow had hit low over the recent years due to differences over NATO's eastward enlargement and Washington's plan to deploy missile defense system in East Europe.