DAVOS, Switzerland – Japanese Prime Minister Taro Aso pledged 1.5 trillion yen ($17 billion) in development aid to other Asian countries on Saturday for infrastructure projects that will help boost growth.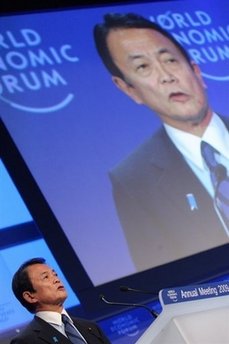 Japanese Prime Minister Taro Aso addresses the World Economic Forum in Davos, Switzerland. Aso has pledged 1.5 trillion yen ($17 billion) in development aid to other Asian countries for infrastructure projects that will help boost growth. [Agencies] 
The prime minister highlighted Japan's involvement in projects in the Mekong region and the Delhi-Mumbai industrial corridor and said overseas development assistance (ODA) would increase by 20 percent this year.
"Japan is ready to provide ODA not less than 1.5 trillion yen or about 17 billion dollars in total," he told the World Economic Forum here.
Japan's official development aid, an important diplomatic tool for the country since the end of World War II, has historically focused on Southeast Asian countries.
Turning to the causes of the global financial crisis, Aso pointed to the responsibility of leading exporting countries.
"In order to put the world economy back onto a stable growth trajectory, one imperative is correcting the global imbalance that has arisen from overconsumption in the United States and insufficient internal demand in other countries," he said.
"Countries must shed their dependence on external demand," he said.
Elsewhere, Aso announced a new emissions plan for the country and reiterated a pledge last November to lend 100 billion dollars to the International Monetary Fund.
"We are currently examining our mid-term target (for emissions reductions) based on scientific analyses ... and I intend to announce the target in June," he said.
Aso also highlighted Japan's own efforts to increase domestic demand with stimulus packages worth a total of 75 trillion yen, calling for other nations to adopt similar economic policies.
Also in Davos, Japan's Trade Minister Toshihiro Nikai and Farm Minister Shigeru Ishiba are to propose a plan to cut or lift tariffs on environmentally friendly products at an informal meeting of World Trade Organisation members here, the Japanese business daily Nikkei reported.
The proposal is aimed at promoting trade in goods such as lithium-ion batteries and solar power generation systems, which could help address global warming, it said. These are areas in which Japanese companies are strong.
Aso left Friday on a lightning visit to the Davos gathering, where he also underlined the ability of Japan to take a leadership role to help the Asian economy power global growth.
The prime minister, embroiled in a stormy session of the politically divided parliament, was to spend only six hours in the Swiss mountain resort and return to Tokyo by late Sunday.
He called for greater international cooperation to battle the global financial crisis and concluded with a call for optimism in the face of adversity.