Anne Hathaway wants to baby-sit them. The Jonas Brothers are happy serenading them. The Bush daughters want to give them advice. A lot of people want to dress like them. The youngest residents of the White House have sure grabbed Americans' attention -- on and offline.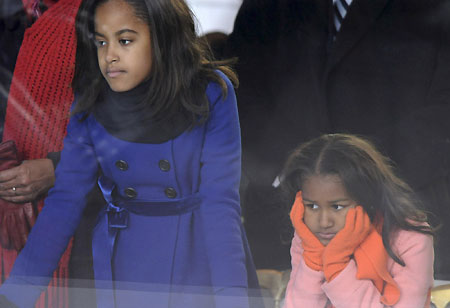 Malia (L) and Sasha Obama watch the Inaugural Parade from their father's reviewing stand in Washington January 20, 2009. Barack Obama was sworn in on Tuesday as the 44th President of the US. [Agencies]
It's true that being the daughters of the president of the United States has got to be a tough act. But that mantle is lightly held by Malia, 10 and Sasha, 7, the daughters of first couple Barack and Michelle Obama. Ever since they've been headed to the White House, the daughters have been gaining attention, with the curious turning to their computers to find out more. Since inauguration, searches on the two girls soared over 500%. The curious want to know, "how tall is malia obama," "sasha obama age," and "letter to sasha and malia."
But the inauguration weekend launched the girls into a new level of celebrity with frenzied searches on everything from "sasha and malia inauguration outfits," "malia and sasha obama pictures," and "sasha and malia obama and jonas brothers." The girls, who got their own fashion press, heated up hits on the website J.Crew, causing it to crash after it was revealed that their coats came from the online store. (The site right now is featuring sketches of the girls in their inauguration coats.)
Newsweek even asked, "Are Sasha and Malia bigger than Miley Cyrus?" While they don't have their own TV show yet, never say never.
The ultimate nod to their rise to top of the pop-culture heap has got to be the Beanie Babies namesake dolls that have just come out, although the company claims that they just liked the names and are not named after the first daughters.
Perhaps father does know best. When asked by George Stephanopoulos on ABC's "This Week" how his daughters managed their first week of school, Obama replied, "They seemed to thrive. I'm trying to figure out why it is that they don't seemed to be fazed by anything. People think — you know, folks think I'm cool, they are a lot cooler than I am."
That's one point on which father and daughters would probably agree.