JERUSALEM -- Human Rights Watch said Sunday that Israel's military has fired artillery shells with the incendiary agent white phosphorus into Gaza and a doctor there said the chemical was suspected in the case of 10 burn victims who had skin peeling off their faces and bodies.
Researchers in Israel from the rights group witnessed hours of artillery bombardments that sent trails of burning smoke indicating white phosphorus over the Jebaliya refugee camp in northern Gaza. But they could not confirm injuries on the ground because they have been barred from entering the territory.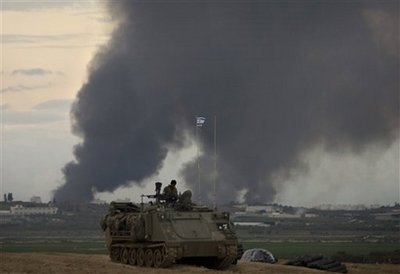 Israeli soldiers sit on top of an armored vehicle as smoke rises from Gaza near Israel's border with the Gaza Strip, Sunday, January 11, 2009. [Agencies]
The chief doctor at Nasser Hospital in southern Gaza said he treated several victims there with serious burns that might have been caused by phosphorus. He said, however, that he did not have the resources or expertise to say with certainty what caused the injuries.
Related readings:


 Israeli PM: Gaza campaign to go on


 Israeli troops, militants battle in Gaza suburb


 Gazans told to brace for war escalation


 Israel, Hamas defy UN call for ceasefire
The substance can cause serious burns if it touches the skin and can spark fires on the ground, the rights group said in a written statement calling on Israel not to use it in crowded areas of Gaza.
Military spokeswoman Maj. Avital Leibovich refused to comment directly on whether Israel was using phosphorus, but said the army was "using its munitions in accordance with international law."
Israel used white phosphorus in its 34-day war with Hezbollah in Lebanon in 2006. The U.S. military in Iraq used the incendiary during a November 2004 operation against insurgents in the city of Fallujah.
An AP photographer and a TV crew based in Gaza visited Nasser Hospital in Khan Younis on Sunday and recorded images of several burn patients.
One of them, Haitham Tahseen, recalled sitting outside his home with his family in the morning when something exploded above them.
"Suddenly, I saw bombs coming with white smoke," said the man, whose burned face was covered with medical cream. "It looked very red and it had white smoke. That's the first time I've seen such a thing."
His cousin, in another hospital bed, was more severely burned, with patches of skin peeling off his face and body, and had to be wrapped with thick white bandages.
The hospital's chief doctor, Youssef Abu Rish, said the burns were not from contact with fire, but he couldn't say what sort of substance caused them. He said information he collected on the Internet indicated it could have been white phosphorus.
White phosphorus is not considered a chemical weapon, and militaries are permitted under laws of warfare to use it in artillery shells, bombs and rockets to create smoke screens to hide troop movements as well as bright bursts in the air to illuminate battlefields at night.