SEOUL - Troubled South Korean automaker Ssangyong Motor Co. has applied for protection from creditors to buy time to restructure itself into a profitable manufacturer after red ink mounted and cash flow collapsed amid falling sales.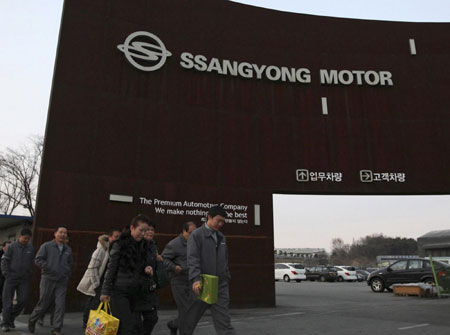 Ssangyong Motor workers leave their plant after a day's work in Pyeongtaek, south of Seoul, January 9, 2009. [Agencies] 
Ssangyong said in a statement Friday that it made the "unavoidable choice" to file for court receivership to "deal with an urgent liquidity crisis and transform itself into a company with sustainable growth."
Separately, Ssangyong President Choi Hyung-tak resigned, said company spokesman Choi Nam-hyun. Trading in Ssangyong shares was suspended, according to the stock market.
South Korea's fifth-largest carmaker, which was unable to meet its December payroll, said the decision came at a meeting of its board of directors in China on Thursday where its parent company Shanghai Automotive Industry Corp. is based. SAIC is the Chinese partner of General Motors Corp. and Volkswagen AG.
Though far smaller than domestic rivals Hyundai Motor Co. and Kia Motors Corp., Ssangyong's fate has been closely watched amid turmoil in the world auto industry, which has been rocked by plunging demand for vehicles as a result of the global financial crisis.
Hong Joon-ho, a judge at the Seoul Central District Court, said it has one month to either approve or reject Ssangyong's application. Before making such a decision, he said the court bars creditors from selling off the assets of an applicant firm.
The court rejects such an application if it determines there is no chance of revival or the applicant firm can survive on its own, Hong said.
If approved, the company's current management loses control, and the court will then name a caretaker to run the company, Hong said. It is also possible for the court to appoint the current management as a caretaker, though it cannot exercise previous managerial rights, he said.
Kia, South Korea's second-largest automaker, went through court receivership and emerged in 1998 as an affiliate of Hyundai Motor Co., the country's largest automaker.