WASHINGTON– The US budget deficit will swell to a record $1.186 trillion in fiscal 2009, congressional forecasters plan to announce on Wednesday, presenting a daunting challenge to President-elect Barack Obama who has said tough choices will be necessary.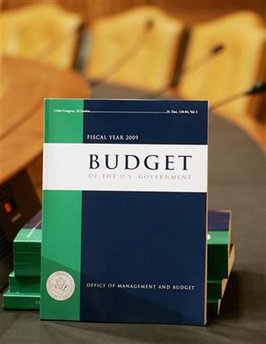 A copy of the President George W. Bush's FY 2009 Budget inside the Senate Budget Committee hearing room on Capitol Hill in Washington February 4, 2008. [Agencies] 
The deficit will likely fall to $703 billion in the 2010 fiscal year, government sources said before the official release of the outlook by the Congressional Budget Office due out at 10:00 a.m. EST.
The huge budget deficits are in contrast to the roughly $455 billion deficit recorded last year and do not account for an economic stimulus plan that Congress plans to consider over the next month, which could total $775 billion more over two years.
Congress also is also expected to be called on in the coming months to approve tens of billions of dollars in additional funding for the wars in Iraq and Afghanistan.
Economists have said that the burgeoning deficits are a result of a steep falloff in tax revenue as the global recession saps the economy as well as huge government outlays to prop up the financial industry and US automakers.
This year's deficit also was worsened by an economic stimulus measure that Congress and President George W. Bush enacted a year ago that totaled $168 billion over two years.
The Bush administration, which began with large budget surpluses in 2001, has loaned hundreds of billions of dollars to help ailing financial institutions recover after they made risky real estate investments that went sour.
CBO, the non-partisan budget analyst for Congress, also will estimate deficits over the next five years will total $1.972 trillion.
When Bush took office, the total US debt was $5.7 trillion. It now stands at more than $10.6 trillion because of increased government spending coupled with lower tax revenues related to Bush's tax cuts and the slowing economy.
Obama said on Tuesday he expects to inherit a deficit approaching $1 trillion and his administration would have to make tough budget choices. But economists agree now is not the time for the country to tighten its belt.