BEIRUT, Lebanon -- Crowds of thousands swept into the streets of cities around the Middle East Sunday to shout down Israel's air assault on Hamas targets in the Gaza Strip.
From Lebanon to Iran, Israel's adversaries used the weekend assault to marshal crowds out onto the streets for noisy demonstrations. And among regional allies there was also discontent: Turkey's prime minister, Recep Tayyip Erdogan, called the air assault a "crime against humanity."
Two days of protests have been free of violence except for one in the northern Iraqi city of Mosul on Sunday that became a target for a suicide bomber on a bicycle.
A teenage boy was killed in one protest in the volatile northern city of Mosul when a suicide bomber on a bicycle detonated explosives in a crowd of around 300 protestors.
In Lebanon, a Hamas official roused a crowd of about 1,000 people topped by fluttering Lebanese and Palestinian flags, promising victory, resistance and ruling out surrender. His speech was met with cries of "death to Israel" from the crowd.
The demonstrators gathered outside the United Nations office in downtown Beirut. After an all-night emergency session in New York, the UN's Security Council expressed serious concern at the escalating situation in Gaza and called on Israel and the Palestinians to immediately halt all violence.
The world body's Beirut offices were guarded by dozens of Lebanese troops, but there was no violence.
Hamas representative Osama Hamdan told the crowd that the militant group had no choice but to fight. Gaza militants have been lobbing dozens of rockets and mortars into southern Israel since a six-month truce expired over a week ago, prompting Israel's fierce retaliation.
"We in the Hamas group and other resistance factions in Gaza know that we don't have many alternatives. We have one alternative which is to be steadfast and resist and then we will be victorious," Hamdan said.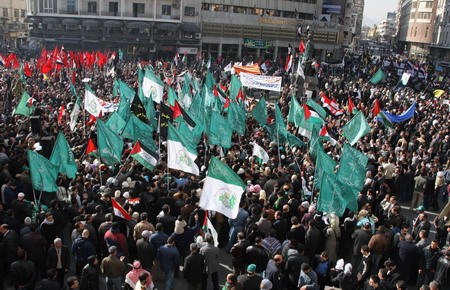 Protesters demonstrate in Damascus December 28, 2008 against the Israeli air strikes on Gaza. Israel destroyed Hamas's main Gaza security complex in an air strike on Sunday and prepared for a possible invasion of the territory after killing more than 280 Palestinians in the first 24 hours of a powerful offensive. [Agencies]
In the capital of neighboring Syria, more than 5,000 people marched toward the central Youssef al-Azmeh square, where they burned an Israeli and an American flag.
One demonstrator carried a banner reading, "The aggression against Gaza is an aggression against the whole Arab nation."
"Down with America, the mother of terrorism," read another.
A group of 30 lawmakers in Jordan were preparing a petition to press the government to expel Israel's ambassador. A majority in the Chamber of Deputies would have to approve. No date has been set for a debate.
About 5,000 lawyers marched toward parliament to demand the ambassador's expulsion and the closure of the embassy. "No for peace, yes to the rifle," they chanted.
In Jordan's squalid Baqaa camp for Palestinian refugees and their descendants, protester Yassin Abu Taha, 32, blamed America and Israel for the Middle East's problems.
"The Israelis kill our people in Gaza and the West Bank. The Americans kill our people in Iraq. We're refugees, kicked out of our home in Tulkarem in 1967 and we're still displaced," he said, bemoaning his family's flight in the 1967 Mideast war.