BAGHDAD -- Iraqi police have arrested 30 members of an al-Qaida cell including the alleged mastermind of last week's deadly truck bombings that killed 17 people in the former insurgent stronghold of Fallujah, officials said Tuesday.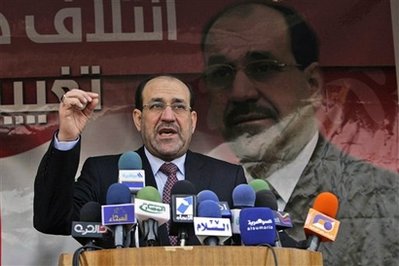 Iraqi Prime Minister Nouri al-Maliki speaks at his home village of Hindiya, Iraq, Tuesday, Dec. 9th, 2008. [Agencies]
Tariq al-Karbouli, the alleged leader of the cell, was picked up Monday in the Abu Ghraib area west of Baghdad, Iraqi officials said. The other members of the cell were apprehended in a series of raids that ended early Tuesday, the officials added.
They spoke on condition of anonymity because they were not authorized to release the information.
Two bomb-laden trucks exploded last Thursday at police stations in Fallujah, 40 miles (75 kilometers) west of Baghdad, killing 17 people and leveling buildings in the area, police reported.
The brazen attacks in the most heavily guarded city in Iraq raised questions about the ability of Iraqi security forces to ensure security as the US scales down its combat role under the newly ratified US-Iraqi pact, which calls for an American pullout within three years.
One of the Iraqi officials said al-Karbouli, who works for a government-owned yoghurt company, said explosives used in the attacks were smuggled into the city over a period of time hidden under bananas and other foodstuffs driven into the city.
The official said al-Karbouli had confessed to his role in the bombings but said the other 11 people who were directly involved were still at large.
Fallujah is located in Anbar province, the mostly Sunni area of western Iraq that had been the main theater of the war until Sunni tribes there broke with al-Qaida last year and joined forces with the Americans.
The city has been under intense security since US forces drove out al-Qaida and other Sunni extremists in November 2004 during the fiercest urban fighting of the Iraq war.
With a drop in violence, the US transferred security control of the province to the Iraqis last September.
Although violence is down 80 percent nationwide since early this year, US officials say the security situation remains tenuous, and some areas of the country are still dangerous.
Those areas include Diyala province north of Baghdad. On Tuesday, a local official there called for a six-month delay in regional elections in Diyala because the security situation is too fragile.