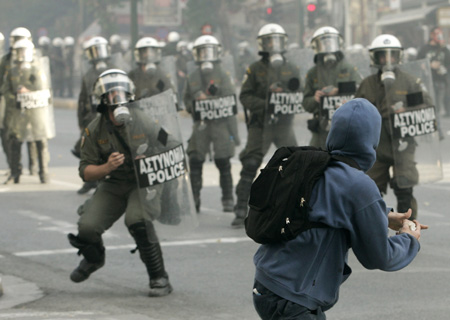 A protester prepares to throw a stone at riot policemen during riots in Athens December 7, 2008. Hundreds of demonstrators clashed with riot police in Athens and the northern Greek city of Thessaloniki on Sunday in a second day of protests at the shooting by police of a 15-year-old boy. [Agencies] 
ATHENS, Greece – Hundreds of youths angered by the fatal police shooting of a teenager rampaged through Greece's two largest cities for a second day Sunday in some of the worst rioting the country has seen in years.
Gangs smashed stores, torched cars and erected burning barricades in the streets of Athens and Thessaloniki. Riot police clashed with groups of mostly self-styled anarchists throwing Molotov cocktails, rocks and bottles. Clouds of tear gas hung in the air, sending passers-by scurrying for cover.
Rioting in several cities, including Hania in Crete and cities in northern Greece, began within hours of the death Saturday night of a 15-year-old shot by police in Exarchia. The downtown Athens district of bars, music clubs and restaurants is seen as the anarchists' home base.
Soon stores, banks and cars were ablaze.
The rioting was some of the most severe Greece has seen in years. The last time a teenager was killed in a police shooting, during a demonstration in 1985, it sparked weeks of rioting. In 1999, a visit to Greece by then US President Bill Clinton sparked violent demonstrations in Athens that left stores smashed and burned.