COLUMBUS, Ohio -- Oil prices tumbled below $50 a barrel Monday as National Bureau of Economic Research reported that the US economy has been in a recession since December 2007 and the Dow Jones industrial average fell nearly 700 points.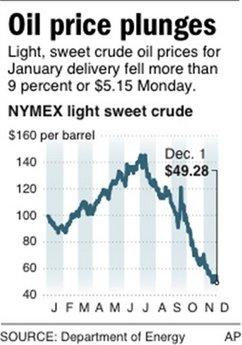 Graphic shows the price of crude oil [Agencies] 
A tandem of bleak economic reports led to an early decline even before the NBER report was released, and a huge sell-off on Wall Street was enough to send crude prices down fast on the belief that energy demand is deteriorating.
A panel of the NBER believes the current downturn will last until the middle of 2009 and will be the most severe slump since the 1981-82 recession.
Light, sweet crude for January delivery fell more than 9 percent, or $5.15, to settle at $49.28 a barrel on the New York Mercantile Exchange.
Crude has lost nearly 70 percent its market value since July when it peaked near $150 per barrel.
Analyst Phil Flynn with Alaron Trading Corp. said the $50 price remains significant psychologically for traders.
"It opens up the possibility of further declines," he said.
In a note to investors Monday, Raymond James Equity Research slashed its 2009 oil price forecast from $90 per barrel to $60 per barrel.
In London, January Brent crude fell more than 10 percent, or $5.52, to settle at $47.97 on the ICE Futures exchange.
Dour economic news in the US comes on the heels of a meeting over the weekend in Cairo, Egypt, where OPEC said it would not cut production before it meets in three weeks.
On Saturday, Saudi Oil Minister Ali Naimi said that Organization of Petroleum Exporting Countries will do what needs to be done to shore up oil prices when the group meets Dec. 17 in Algeria.
There are continuing indications, however, that OPEC has lost much of its power to control prices by cutting supply.
A report on Iranian state TV Monday in which OPEC Secretary-General Abdullah El-Badri was quoted as saying that a daily oil production cut of between 1 million and 1.5 million barrels was likely in December did little to halt declines.
OPEC, which accounts for about 40 percent of global supply, cut output by 1.5 million barrels a day in October, bringing total cuts to around 2 million barrels a day this year.
Those measures have had no discernible effect on oil prices, which have fallen another 26 percent since the last round of production cuts on Oct. 24.
"The OPEC meeting from their viewpoint was a disaster," Flynn said.