MOGADISHU - Somali pirates holding a huge oil-laden Saudi tanker on Saturday vowed to fight back should any assault be attempted to free the ship and urged its owners to pay a $25 million ransom.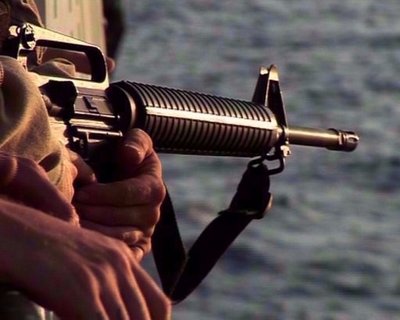 The Saudi owners of the Sirius Star are in negotiations with Somali pirates who have demanded a ransom for the super-tanker laden with $100 million of oil they hijacked at the weekend.[Agencies] 
As world powers rushed naval forces to Somalia's dangerous waters amid growing concerns of major disruptions to international trade, the pirates consolidated their land base with more men and weapons.
Speaking to reporters from the pirate lair of Harardhere, a member of the group holding the Sirius Star said there was no plan to destroy the super-tanker or harm its crew but warned any military bid to free it would be "disastrous."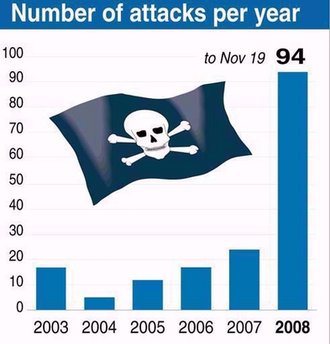 A chart showing the number of pirate attacks per year since 2003. Somali pirates holding a huge oil-laden Saudi tanker have vowed to fight back should any assault be attempted to free the ship and urged its owners to pay up a $25 million ransom.[Agencies] 
"I hope the owner of the tanker is wise enough and won't allow any military option because that would be disastrous for everybody. We are here to defend the tanker if attacked," Abdiyare Moalim said.
"Their intention is clear, I was speaking to them some minutes ago and they told me they are not going to destroy the ship or harm the crew. They are hoping to get what they demanded," he said from Harardhere, north of Mogadishu.
Local residents said that reinforcements of at least 10 well-armed men joined the pirates holding on the ship, which anchored off Harardhere with its 25 crew three days after being hijacked on November 15.
"Early this morning, I saw at least 10 heavily armed pirates heading to the ship. Their boat returned after dropping them off," local fisherman Hassan Ahmed said.
Residents said clan militias and Islamist fighters had arrived in the village and its surroundings over the past two or three days.
The Islamist Shebab group which controls much of Somalia has repeatedly stated it was fiercely opposed to piracy, which in Islamic law is a capital offence, and has vowed to root out pirates.
But an Islamist official in Harardhere said the Shebab fighters in the region had no intention of attacking the pirate group and residents said greed was the only explanation for the coastal hamlet's recent crowding.
The hamlet's residents were torn over the flurry of activity in the area.
"The presence of more people here, whether they are militia or not, is good for the economy of Harardhere. At least they will consume what we have," Abdi Hassan, who runs a small teashop, said. "They are welcome here as long they don't loot and kill."
The Sirius Star, the biggest ship ever hijacked, and its 100 million dollar load of oil was seized on November 15 and taken three days later to Harardhere, 300 kilometres (180 miles) north of lawless Somalia's capital Mogadishu.
The pirates gave the owners until November 30 to pay a 25 million dollar ransom, said a pirate who identified himself as Mohamed Said, threatening "disastrous" consequences if Vela International, shipping arm of the Saudi oil giant Saudi Aramco, failed to comply.
He did not specify the threatened action but the 330-metre (1,000-foot) long tanker is carrying two million barrels of crude oil.
Moalim said negotiations between the owners and his colleagues on board the Sirius Star were under way but that no breakthrough had been achieved yet.
"They receive phone calls from people, some of them claiming to be mediators and others agents of the owners... So far nothing has been agreed," he said.
With close to 100 attacks on ships in the Gulf of Aden and Indian Ocean this year, the pirates now pose a growing threat to international trade.
Saudi Foreign Minister Prince Saud al-Faisal said he was opposed to any negotiations with pirates. "Like terrorism, it is an evil that has to be eradicated," he said Friday.
Russia announced it would send more warships to combat piracy and also called for an international ground military operation to crush piracy.
Arab nations bordering the Red Sea met on Thursday to outline an anti-piracy strategy. Egypt would lose one of its top foreign currency earners should shipping companies decide to re-route their vessels and avoid the Suez canal.
Oslo-based Frontline Ltd, the world's biggest oil tanker company, said a more aggressive military approach was needed.
Other maritime groups have decided to steer clear of Somalia's treacherous waters by diverting ships to the Cape of Good Hope, despite the extra delays and costs.
Meanwhile, a Greek-owned chemical tanker freed by Somali pirates on Friday after being held for nearly two months was heading for Saudi Arabia, Greece's merchant shipping ministry said.