BAGHDAD - Iraqi Foreign Minister Hoshiyar Zebari and US ambassador Ryan Crocker signed a long-awaited accord on Monday requiring Washington to withdraw its forces within three years.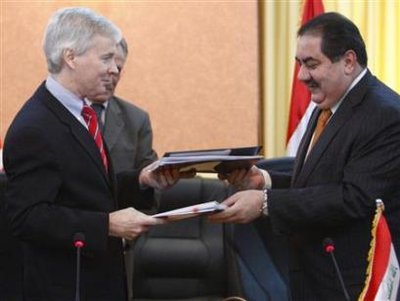 Iraqi Foreign Minister Hoshiyar Zebari (R) and US ambassador to Iraq Ryan Crocker exchange documents after signing the pact that will let US troops stay in Iraq until 2011 after it was approved by Iraq's cabinet at the Iraqi Foreign Ministry in Baghdad November 17, 2008. [Agencies] 
The signing ceremony put a formal end to months of negotiations over the pact on the future of the US presence, which the Iraqi government approved on Sunday. The pact must still be passed in the Iraqi parliament, but the government is confident it will achieve this by the end of the month.
Related readings:


 Aide: Iraq, US agree on final draft of pact


 Fake New York Times reports end to Iraq war


 China, Iraq sign oil service deal


 Iraq spokesman says US security offer not enough
"Definitely, today is an historic day for Iraqi-American relations, signing the security pact after months of difficult talks and negotiations," Zebari told reporters after exchanging signed copies with Crocker. Both men smiled and enthusiastically shook hands as officials applauded.
Apart from the troops pact, the two men signed a long-term strategic framework, which Crocker said would define relations between the countries for years in "economy, culture, science, technology, health and trade, just to name a few."
"It reminds us all that, at a time when US forces will continue to withdraw from Iraq in recognition of the superlative security gains over the last few years, our relationship will develop in many other important ways."
But the main focus for Iraqis is the pact at last committing the United States to withdraw a force that now numbers about 150,000 by December 31, 2011, a firm date that reflects the growing confidence of Iraq's government as violence has eased.
Iraqi leaders consider the date to be a major negotiating victory after the administration of outgoing President George W. Bush long vowed not to accept a firm timetable.
"This was a complicated and tough negotiation, and I think all Iraqis can be very proud of the substantial achievement that their negotiating team has witnessed," Crocker said.